Tinder CEO Sean Rad says app has led to 250,000 transgender matches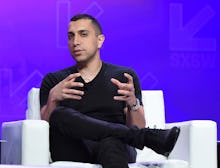 There's been a whole lot of swiping right for transgender people on Tinder. 
According to CNN, while on a panel Friday at SXSW, Tinder CEO Sean Rad announced there had been roughly 250,000 matches with transgender users on Tinder since the dating app expanded its range of available gender options in November. 
The panel, titled "Swiping Right on Inclusivity," included GLAAD president and CEO Sarah Kate Ellis, who applauded Rad and Tinder for the steps it had taken to include everybody outside the gender binary. 
"You guys proactively took this on," Ellis said to Rad. "We weren't at your front door with pitchforks yet.
In a previous interview with Mic, Rad had said the minute he heard about the harassment, he wanted to develop an update the week after. The update took a few months to roll out because it went through about 50 iterations. 
"No algorithm is going to solve for humans," Rad said Friday. "We needed our team to understand how to empathize."
Zackary Drucker, a transgender activist and producer on the Amazon series Transparent, also appeared on the panel to say that including trans people on Tinder, rather than "separate and on the side" was "enormous." 
"It's actually really impossible to quantify how huge that is when we've always existed hidden, kept away," Drucker said. "Ultimately, we're not yet seen as human to a large percentage of the world."
The SXSW festival took place in Texas, a state that's weighing a bill that would restrict transgender people from using the bathroom that matches their transgender identity. The bill is similar to North Carolina's infamous HB2.