Spice Girls denounce blackface in '90s TV clip: "Update your culture!"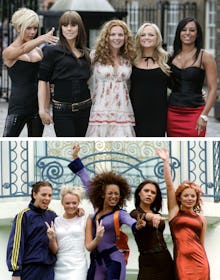 When it comes to blackface, the Spice Girls have seven words: "Stop right now, thank you very much." 
This week, footage of the legendary girl group from a '90s appearance on the Dutch television show Laat de Leeuw resurfaced online. And while the girls were known for "girl power," the clip is downright woke. 
In the segment, host Paul De Leeuw brings out white people in blackface as part of the cultural tradition of "Black Pete," a companion to Santa Claus in Dutch culture. In recent years, "Black Pete" has gotten grayer in tone to avoid charges of racism, but the Spice Girls saw the problem two decades ago. 
"I think they shouldn't paint their faces," Melanie Brown aka Mel B aka Scary Spice, said to Leeuw. "You should get proper black people to do it. I don't think that's very good." 
Leeuw says it's a cultural tradition to which Brown says to "change it" because "this is the '90s." 
Geri Halliwell, aka Ginger Spice, then adds, "Update your culture!" 
People on Twitter loved the clip. 
Turns out, the Spice Girls were decades ahead of Leeuw, who says he's updated his stance on "Black Pete" after seeing the Academy Award-winning film 12 Years a Slave. 
Not everyone has gotten the blackface memo. In January, students at Oklahoma State University celebrated Martin Luther King Jr. Day by wearing blackface and less than a year ago, Snapchat caught for its blackface Bob Marley filter. 
When it comes to using blackface, the Spice Girls have just one question: "Who do you think you are?"