White House raises security condition to orange after intruder gets onto grounds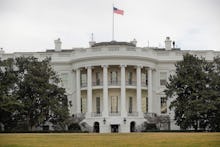 The Secret Service arrested a man carrying a backpack who made it onto the White House Grounds near the building's south entrance Friday night, CNN reported. 
President Donald Trump was in the White House at Mar-a-Lago on Friday, when the incident happened just before midnight. 
After the man was arrested, the White House was placed under security condition "orange," one of the highest Secret Service security levels. 
People have trespassed on the White House grounds before. In 2015, Joseph Caputo scaled the White House fence while draping an American flag over his shoulders. In 2014, Omar Gonzalez, with a folding knife in tow, made it through the north portico doors and was arrested by Secret Service. 
And there's the case of Michaele and Tareq Salahi, who crashed an official White House dinner in 2009 while shooting season one of the Real Housewives of D.C.