5th grade NJ students asked to make slave auction posters for history assignment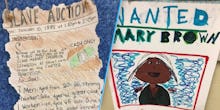 Parents at South Mountain Elementary School in New Jersey walked into the school ready for parent teacher conferences when they greeted by posters hung in the hallways advertising slave auctions. 
According to NJ.com, school officials have now called a community meeting to discuss the fifth-grade assignment and its implications. 
Parents took to social media to blast the assignment. 
"Educating young students on the harsh realities of slavery is of course not the issue here, but the medium for said education is grossly insensitive and negligent," one parent, Jamil Karriem, wrote on Facebook. "It is completely lost on me how this project could be an effective way to teach any student in any age group about American history." 
In a note to parents from superintendent John Ramos, Ramos said that "anti-bias experts" stressed its important that schools not "skip over the more painful aspects of American History." 
He added, "We need to do a better job of acknowledging the uglier parts of our past, so that children learn the full story." 
According to Ramos's note, some families are supportive of the posters for examining "shameful and too-often ignored chapter of American history" while others are "disturbed" the school asked students to "put themselves in the virtual shoes of people who subjugated others."
One parent, Glenn Conover, told local ABC affiliate WABC-TV the assignment was "crazy." 
"I don't think they should've done that," Conover said. "That's disrespectful, first of all, to any of the black kids in the school."
A caregiver, Andrea Espinoza, told WABC-TV that "it's part of history." 
"I think it's good that they know," she said. 
Ramos said that the misunderstanding was probably because there was no explanation of the assignment accompanying the pictures, which have been removed from the hallways. A school spokeswoman told NJ.com that the district hasn't yet decided if the assignment will be included in next year's curriculum.