3 men charged with hate crimes in shooting of transgender woman Deeniquia Dodds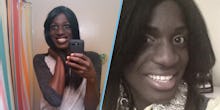 A Washington, D.C., grand jury indicted three men — Jalonte Little, Monte T. Johnson and Cyheme Hall — in connection with the killing of 22-year-old Deeniquia Dodds, a black transgender woman, the Washington Post reported. Dodds was shot during a robbery on July 4 and died nine days later in the hospital. 
Little, Johnson and Hall were charged in a robbery conspiracy and for first-degree felony murder that prosecutors in the indictment say was motivated by Dodds' gender identity. According to the Post, the men are also being charged with four other robberies that day, including the robbery of another transgender woman. 
With the hate crime added to their charges, a judge could increase the sentences of the men if convicted, the Post reported, meaning a maximum 60-year sentence for first-degree murder while armed would move to a 90-year maximum sentence. 
Local transgender advocate Earline Budd praised the indictment to the Post. 
"It sends a message that it's not OK to go around and shoot, harm and kill transgender people," Budd said. "It sends a message that we are human like anyone else." 
Dodds was killed during what turned out to be the worst year for transgender homicides on record. In the first two months of 2017, seven transgender women of color were killed.