Trump's US attorney purge is the latest idea he seemingly pulled from Fox News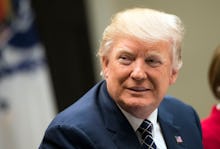 President Donald Trump surprised many in Washington, D.C., this week when he summarily asked all 46 holdover U.S. attorneys from former President Barack Obama's administration to resign, upsetting longstanding tradition to keep some U.S. attorneys from prior administrations and keep others on until their replacements were ready. 
Trump even asked for the resignation of Preet Bharara, U.S. Attorney for New York's Southern District who Trump had previously asked to say on, then fired Bharara after he refused to resign.
What might have spurred such a move? Well, on the Thursday edition of Sean Hannity's show, the Fox News personality demanded a "purge" of all Obama-era appointees, calling them "saboteurs" and potentially "disloyal." Hannity specifically cited former President Bill Clinton's 1993 decision to fire all 93 U.S. attorneys, arguing it would be better for the president to take care of the problem now than later.
Did Trump get his cues from Hannity? It's certainly possible. On numerous prior occasions, the president seems to have lifted ideas wholesale from Fox News shows. Here's just a few examples.
Feb. 25, 2017: Trump wants to know why the media isn't reporting drop in national debt
Last month, Trump asked why "the media has not reported that the National Debt in my first month went down by $12 billion vs a $200 billion increase in Obama first mo.," a misrepresentation of a short-term fluctuation in national debt levels the president could not have caused anyhow (because he has not signed any fiscal legislation yet).
As Bloomberg noted, the president's point, "which was criticized by economists, had been made that hour on Fox News by Herman Cain, the former Republican presidential candidate, and was the subject of an article by the conservative-leaning website the Gateway Pundit two days before."
Feb. 18, 2017: Trump cites fake terror attack in Sweden, blames Fox News
On Feb. 18, Trump took the stage at a rally in Melbourne, Florida, to reference some form of immigration-related security incident in Sweden, saying "look at what's happening last night in Sweden. Sweden! Who would believe this? Sweden, they took in large numbers, they are having problems like they never thought possible."
The incident in question never happened.
Pressed on the issue, the next morning, Trump admitted he was referring to something he watched on Fox News.
Feb. 2, 2017: Trump follows lead of Fox News' Todd Starnes
In February, when far-right Breitbart troll Milo Yiannopoulos was unable to show up at the last leg of his Dangerous Faggot tour at the University of California, Berkeley, thanks to crowds of anti-fascist rioters, Fox News' Todd Starnes took to the air to demand "Free speech for all or no federal money!"
Shortly thereafter, Trump weighed in with almost the exact same sentiment.
Jan. 26, 2017: Trump calls Chelsea Manning "Ungrateful TRAITOR" after Fox News does
In January, the president lambasted intelligence leaker Chelsea Manning as an "ungrateful TRAITOR ... who should never have been released from prison [and] is now calling President Obama a weak leader. Terrible!"
As the Daily Beast noted, mere minutes prior, Fox & Friends' Abby Huntsman did a segment on Manning in which the chyron "UNGRATEFUL TRAITOR" appeared along the bottom of the screen, accompanied by a monologue in which Huntsman criticized Manning's remarks.
Jan. 24, 2017: Trump copies crime stats from Bill O'Reilly's show
In January, Trump threatened to "send in the Feds!" if the city of Chicago, where hundreds of people had been shot over the course of the past year, did not clean up its act. The exact nature of Trump's promise to send in federal enforcers was not clear.
However, the source of his information was. Perhaps an hour before the tweet, Fox News' Bill O'Reilly used the same statistics in a segment on his show.
Trump and Fox are more than a little too close for comfort
The president has had an informal working relationship with the network for years. Media Matters, a progressive group which opposes Fox News and other right-wing outlets, reported Trump was parroting misinformation from Hannity as early as October 2015, and continued to do so throughout the campaign season, when he cited an inaccurate Fox News report that Democrat Hillary Clinton was facing a "pay-for-play corruption" investigation by the FBI.
However, Trump's embrace of far-right media — and willingness to appropriate the juiciest bits for his own talking points — goes a lot further than Fox. Trump has at times repeated talking points previously sounded by InfoWars founder and conspiracy theorist Alex Jones. The president had pro-Trump propaganda site Gateway Pundit elevated to the status of official White House press corps invitee.