Frank Ocean's new song "Chanel" tackles bisexuality, masculinity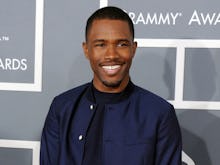 Looks like fans of Frank Ocean won't have to wait another four years for new music. 
On Friday night, singer Frank Ocean dropped a new track on Soundcloud, "Chanel," in which Ocean discusses his own bisexuality and tackles expectations around masculinity.
"My guy pretty like a girl/ And he got fight stories to tell/ I see both sides like Chanel/ See on both sides like Chanel," Ocean sings on the song's opening verses. 
Ocean's lyrics play with the reality of many femme queer men who learn to juggle being feminine and having to defend themselves from those who don't understand their femininity — much like the main character Chiron in the best-picture-winning film Moonlight.
Ocean's line, "I see both sides like Chanel," nods to his bisexuality, but also to the Chanel brand logo, which is two letter c's lined up back to back, facing opposite directions. 
Queer Twitter users have been delighted by Ocean's track, and his open discussion of sexuality and femininity. 
Ocean dropped two full-length LPs within a few days of each other in August after several years of musical silence. He also garnered headlines earlier this year when he chose to boycott the Grammys and not to submit his work for awards consideration.