Winter Storm Watch 2017: East Coast storm could drop major snowfall in NYC, Boston, D.C.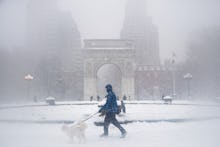 After an abnormally warm winter, the U.S. Northeast will finally get some serious snow in the coming days — possibly more than a foot of it.
The National Weather Service has issued a Winter Storm Watch for much of the Northeast from Maine down to Washington, D.C., with snow expected to begin late Monday night and finish as late as Wednesday. 
The New York City and Boston areas have a particularly extreme forecast, with the NWS issuing multiple blizzard watches for Tuesday. 
Here's what to expect from the massive Nor'easter, as of Sunday morning.
Boston
The city of Boston is under a blizzard watch, along with southern Rhode Island and the rest of coastal Massachusetts, including Plymouth. The NWS projects more than 6 inches of snow will fall on Tuesday, though the agency suggested on Twitter the totals could reach 12 to 18 inches. Significant blowing and falling snow and 20- to 30-mile-per-hour winds with gusts up to 55 miles per hour are also likely, creating possible whiteout conditions. 
The NWS warns that the heavy snow "will make many roads impassable and may produce widespread power outages due to the weight of the snow on tree limbs and power lines."
Farther west, much of Massachusetts and Rhode Island are under a Winter Weather Watch, with the NWS projecting over 6 inches of heavy snow starting late Monday night and continuing through Tuesday night.
New York City
The NYC Blizzard Watch forecasts 12 to 18 inches of snow for the city, along with Long Island, southern Connecticut, southern Westchester County and parts of northeast New Jersey, including Newark. The watch remains in effect from late Monday night through Tuesday evening, and temperatures are expected to be in the upper 20s. Twenty to 30-mile-per-hour wind is also expected, along with gusts that reach up to 40 to 50 miles per hour, which could possibly reach 60 miles per hour in eastern parts of Long Island and Connecticut.
The Blizzard Watch, the NWS reports, means that residents can expect "falling and/or blowing snow," along with whiteout conditions that will make travel dangerous.
New Jersey/Philadelphia
Much of New Jersey is under a Winter Storm Watch, with 12 to 18 inches likely throughout northern New Jersey and 8 to 12 inches possible in most of southern New Jersey and eastern Pennsylvania, including Philadelphia. The NWS projects that most areas will see 4 inches of snow, at the very least, while the storm's upper potential could result in 19 inches of snow in Philadelphia and surrounding areas.
The southernmost parts of the state will see the least snow, with just 4 to 6 inches expected in Atlantic City. The storm is likely to hit New Jersey the hardest Monday night into Tuesday, and coastal areas of the state will face flooding on Tuesday and winds up to 50 miles per hour.
Washington, D.C.
The NWS is projecting more than 5 inches of snow for the nation's capital and surrounding areas of Baltimore and northern Virginia, though more significant snowfall totals may be possible.
The Washington Post's Capital Weather Gang is currently predicting 4 to 8 inches in the immediate D.C. metro area, with up to 14 inches possible north of the capital in Maryland and just 2 to 6 inches likely farther south. 
Snow is expected to start falling Monday evening between 5 and 8:00 p.m., the Post notes, and should stop around sunrise on Tuesday.