HHS Sec. Tom Price says "nobody will be worse off" under Trumpcare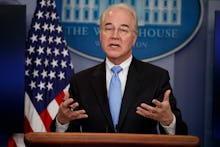 As Republicans in Congress continue to push their recently-unveiled health care plan, many are still wondering how the Affordable Care Act alternative will affect Americans. Will people relying on the individual and small market plans the ACA provided be worse off under the GOP's plan?
Health and Human Services Secretary Tom Price doesn't seem to think so. In an interview with Chuck Todd on Meet the Press, Price, a former orthopedic surgeon and Republican congressman, promised the new plan wouldn't have the negative impact many are predicting.
"I firmly believe that nobody will be worse off financially in the process that we're going through," Price said. "They'll have choices that they can select the kind of coverage that they want for themselves and for their family, not the government forces them to buy."  
Recent findings suggest otherwise
Price's assurances stand in stark contrast to studies on the newly-released plan, which offer a much bleaker view. An analysis conducted by Vox revealed the plan would increase yearly health care costs for the average enrollee by $1,542, while costs for those ages 50 to 64 would increase by $5,269. What's more, rates would continue going up: Vox estimates that by 2020, the average enrollee would be paying $2,409 more a year for health insurance, while those 50 to 64 would be paying $5,269 more.  
An analysis by the Kaiser Family Foundation that Todd cited during the interview predicts the bill would financially hurt rural Americans. In Fayette County, West Virginia — a county that voted overwhelmingly for Trump — KFF predicted a 60-year-old resident making $30,000 a year would get almost $8,000 less in tax credits from the Republican plan compared to the ACA.
Price rejected the study without offering any concrete evidence to the contrary, but rather pointed to the "choices" provided by the new plan and said the KFF's analysis was "looking at it in a silo." 
"If you look at it in the way the market will allow, then, where individuals have choices, who knows what that 60-year-old wants?" Price said. "I know the federal government doesn't know what that 60-year-old wants."
Other projections have offered a similarly disheartening view when it comes to Americans not only facing increased costs, but losing health care altogether. In forecasting Congressional Budget Office estimates, the Brookings Institute predicts that at least 15 million Americans will lose their health care under the new plan by 2026.
When Todd presented Price with this analysis, the HHS secretary again refuted the claims without providing any specific numbers or facts to back him up. 
"I'll tell you that the plan that we've laid out here will not leave that number of individuals uncovered," Price said. "In fact I believe, again, that we'll have more individuals covered."