'SNL' skewers Ivanka Trump's role in dad's administration with ad for "Complicit" perfume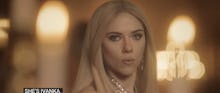 Saturday Night Live hit Donald Trump where it hurts — not with its portrayal of the 45th president spectacularly bungling a war on aliens but with a merciless skit about his first and favorite daughter: Ivanka Trump. 
In a spoof ad for a new Ivanka-branded perfume called Complicit, SNL neatly summarized the first daughter's vague, but substantial, behind-the-scenes role in her father's administration. Host Scarlett Johansson plays Ivanka, dressed in a shimmering evening gown and floating through an opulent golden hall that recalls the ostentatious insides of Trump's own gilded penthouse. 
The sketch is just under two minutes of very savage realness.
"A woman like her deserves a fragrance all her own," a voiceover says. "A scent made just for her. Because she's beautiful. She's powerful. She's — complicit."
The ad continues: "She's a woman who knows what she wants and knows what she's doing — complicit."
"She doesn't crave the spotlight, but we see her," the voice says, as Johansson as Ivanka bends to reapply her champagne lipstick in a gold-leafed mirror, looking not at a reflection of herself but of her father, played by Alec Baldwin. "Oh, how we see her."
"A feminist. An advocate. A champion for women," the narrator continues, adding as an afterthought: "But like, how?"
"Complicit: The fragrance for the woman who could stop all of this but won't," the voice says, as Johansson's Ivanka flees her fancy cocktail party. 
Ivanka and her president dad aren't the only ones skewered in the "Complicit" ad. SNL also managed to get in a jab at Ivanka's husband, Jared Kushner, a senior Trump adviser who seems to be tangled up in the unraveling Russia scandals and might just stand to profit off his father-in-law's White House stint. 
"Also available in a cologne for Jared," the ad concludes.