Pamela Anderson and Julian Assange: The timeline of their strange relationship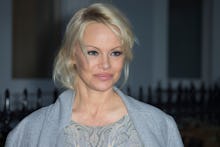 What's Pamela Anderson up to these days? Blogging semi-poetic love letters to WikiLeaks founder and accused rapist Julian Assange. 
In a post on her personal website titled "My Julian," the former Baywatch star wrote that Assange is "the most intelligent, interesting and informed man in existence." Here is a passage:
"Yes — I think he's quite sexy. / He has tremendous strength and stamina — though vulnerable."
But wait! There's more. Sounding almost like President Donald Trump, Anderson proceeded to defend Assange's character against the "propaganda" put forth by the news media to sully what Anderson seems to think is his good name. She writes:
Any time anyone maliciously, / or frivolously mentions 'rape' next to his name — / they need to understand it is defamation. / We are all innocent until proven guilty. / And — / There is no rape — / it is a case of condom or not. / It is ridiculous.
In August of 2010, two women reported having sexual encounters with the WikiLeaks founder that, according to the BBC, started off as consensual but did not end that way. The women reported the encounters to Swedish authorities, which eventually resulted in an international warrant for Assange's arrest. With a scandal percolating, he left Sweden for London.
In 2012, Assange took up residence in the Ecuadorean Embassy in London, where he remains to this day. But wait! If he is living the life of a shut-in, how did he meet model-slash-activist-at-large Anderson? So glad you asked!
A timeline of Pamela Anderson and Julian Assange's relationship
September 2014
Gossip rag the Daily Mail reported that "Pammy" enjoyed a "secret date" with Assange at the embassy, a meeting engineered by their mutual friend, fashion designer Vivienne Westwood. Anderson was reportedly hoping to get Assange's support for her foundation, which — as the Mail pointed out — exists in part to help sexual violence victims. Huh! 
Anyway, Westwood and Anderson were supposed to visit Assange together, only Anderson mixed up the dates and flew solo instead. Westwood allegedly told Mail reporter Charlotte Gill that the unlikely pair hit it off remarkably well — perhaps so well that they ended up in bed together. Jezebel referred back to a gossip nugget published on unverifiable site Crazy Days and Nights in early September 2014, suggesting Anderson had sex with Assange "just for his endorsement," which he didn't give. 
October 2016
Rumors swirled that Anderson had poisoned Assange with a vegan sandwich at the behest of Hillary Clinton's campaign. Anderson was seen entering the embassy, a Pret a Manger bag swinging at her wrist, shortly before the WikiLeaks Twitter account activated the "dead man's switch" that's supposed to signal the founder's death. 
Assange, as it turned out, was not dead after the visit — though Anderson said he likened the vegan lunch to torture. Despite his apparent lack of gratitude, Assange reportedly received only praise from Anderson.
"I really believe in him and think he's a good person, and I'm concerned about his health, his family, and I just hope that by some miracle he's set free," she said, according to the Telegraph. 
November 2016
Anderson penned this dispatch from the Ecuadorean Embassy for the Observer. In it, she defended Assange and WikiLeaks' work. She writes:
I have visited Julian a few times now. I bring him healthy vegan food and we talk about personal issues as well as politics.
December 2016
Anderson was spotted entering the embassy, this time toting a Whole Foods bag. 
January 2017
British tabloid the Sun reported that, as of late January, Anderson had visited Assange five times in four months, allegedly having donned "sexier" ensembles with every passing encounter. Her trips prompted rumors that the pair were enjoying more than tender hugs goodbye. 
February 2017
Anderson was photographed bringing lunch to the embassy again. Page Six wondered if the pair might be dating.
In mid-February, Assange responded to an Australian radio host's question about the alleged romantic relationship burgeoning between the WikiLeaks founder and the model. "She's an attractive person and an attractive personality and whip-smart," he said, adding, "I like her, she's great, but I'm not going to go into the private details."
Fast forward one week: Anderson sat down for an interview on Russian news network RT's Going Underground. Speaking from under an eccentric, hand-crafted statement crown, Anderson again defended Assange's honor. 
"We all, of course, gravitate to vulnerable people and we consider that to be women and children, first and foremost, which is important, of course, but there are also a lot of men who are in a vulnerable situation and politically bullied," she said.
Anderson announced that she would be "campaigning" for men "accused of rape when they hadn't done anything," calling out Sweden's rape laws as "almost too progressive." The next day, she posted a letter titled "Dear Australia" on her website, reprimanding Australian Prime Minister Malcolm Turnbull for not coming to the aid of Assange, an Australian citizen. 
March 2017 
Anderson composed and posted "My Julian," praising Assange for what she calls heroism and effusing gratitude for all the information WikiLeaks has given us. 
"I will always stand by / My / Julian," she concluded. "Love, / Pamela."