Donald Trump Jr. insists he has "zero contact" with his father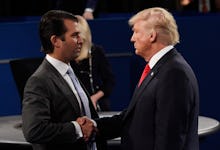 Donald Trump Jr., the eldest son of President Donald Trump, insisted on Saturday that his control of the family's sprawling business empire poses no conflict of interest.
When it comes to communication with his father, "I basically have zero contact with him at this point," Trump Jr. told GOP fundraisers in Dallas, NBC reported.
But he then immediately seemed to undercut his own point, saying it was difficult for him to stay out of the political fights that have wracked his father's two months in office. In fact, Trump Jr. said, he relished being involved.
"I thought I was out of politics after Election Day and [would] get back to my regular life and my family," Trump Jr. told the audience. "But I couldn't ... Deals are still exciting. But when you're the sort of guy out there every day, 24/7 fighting in this thing — it's like a great fight."
Trump Jr., along with Trump Organization Chief Financial Officer Allen H. Weisselberg, manage the Donald J. Trump Revocable Trust, the fund the president created to hold his business interests while he serves his term in office. President Trump promoted the arrangement as a "blind trust" on the campaign trail and after taking office, but a true blind trust would require Trump's assets to be sold off and managed independently by a third party. 
Trump's son does not qualify as an independent third party. And while Trump Jr. may be at the reins for now, President Trump remains the sole owner and beneficiary of the trust, which ethics experts say poses a massive conflict of interest with his official duties.
The president's faux divestiture plans have, at times, earned him the mockery of places like the Office of Government Ethics.
In addition to speaking at GOP events, Trump Jr. eagerly promoted himself as one of the pro-Trump "deplorables" that Hillary Clinton criticized on the campaign trail, and makes sure his two cents are known on variety of political and non-political issues on Twitter.
Trump's other adult son, Eric Trump, also manages the company's businesses with his brother, while Trump's eldest daughter, Ivanka Trump, is one of his advisers. His other adult child, Tiffany Trump, has apparently chosen to lay low.