Comparing the fashion in the 'KUWTK' season 13 premiere with its first episode ever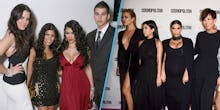 Keeping Up With the Kardashians is upon us once again. On Sunday night, the series' 13th season debuted with promises that it would touch on not only Kim's Paris robbery but maybe all that Robert and Chyna drama, too. 
Did it? No. But what it did do is fulfill one of the promises KUWTK has kept from the beginning: It gave you some eye-catching fashion. 
These are women who have scaled the ladder of celebrity to a point where everything they not just do — but wear — is under a microscope, so each cast member has naturally carved out a sense of style of their own, from Kim's love of neutrals to Kris' love of glamour. 
In that sense, the first episode of season 13 certainly didn't disappoint, with a few shocking-yet-memorable looks from Kim especially, but at the same time, it also made us a bit nostalgic for how the show used to look. 
You see, back in 2007, when the show debuted, the Kardashians were just a sliver as famous as they are now, and their fashion reflected that. 
So, as an ode to that first time we saw them, we decided to compare how each cast member looked during the first episode of KUWTK to how they looked in the season 13 premiere. 
My, how things have changed. 
Kim 
For the season 13 premiere, Kim Kardashian West did not fuck around. 
The first time we saw her, she was wearing what effectively looked like a long-line bra and acid wash jeans. 
Later, she turned up in a revealing tank top and dark pants... 
...before again wearing what looked like lingerie. 
And that was all before her pièce de résistance last night: This silver, shimmery, revealing dress that she wore to one of Kanye West's concerts in Miami. 
A quintessential Kim look. 
Now to compare these looks to what she wore in the very first KUWTK episode. 
Here's the first time we ever saw Kim on screen: 
Yes, she fell victim to the trend of wearing sweaters with a belt. 
She also fell victim to vests.
And to fairy dresses. 
And, finally, to satin secretary blouses. 
So yeah, let's say that her looks have only gotten better. 
Kris 
Now for Kris. We didn't see much of her last night, but when we did, she made a statement. For her one appearance during the premiere, she wore a military-inspired Gucci coat. 
Much like with Kim, Kris' look was a very far cry from how she looked for KUWTK's premiere episode. Here's how she looked the first time we laid eyes on her: 
Your mom probably also wore this outfit in 2007, so don't judge.
Kris redeemed herself a bit this episode, wearing a really rather fine black lace dress, which we can't really complain about at all. 
Kourtney didn't look too happy about it though. 
Kourtney (and sometimes Scott) 
There's aways so much drama with Kourtney. In the season 13 premiere, Kourtney was first seen wearing a super simple outfit: just a white T-shirt and stretchy, black pants. 
Then she changed for dinner with Khloé (naturally) and slipped into a white satin slip dress and a black leather jacket. 
Cute, yeah?
And then we saw her in a rather Kim-like ensemble, pairing a black bra-looking top with ripped jeans and heels. 
Finally, at the end of the episode, she got back in her groove of comfortable-yet-cute attire, wearing a black turtleneck and leather-looking pants for lounging with one of her kids and Scott, who managed to match in black too. 
Now, brace yourself, because here is what Kourtney looked like in the first episode of the first season of KUWTK. 
Beige lace, ladies. 
Bootcut jeans! 
Whatever this dress is:
And how did Scott look? Well... 
We think the board shorts say it all. 
Khloé 
In Khloé's first appearance for season 13, she was wearing what looked to be her own neutral-colored spin on Carmen Sandiego, with a wide-brimmed white hat and an all-neutral ensemble. 
Later in the episode, she wore a lime-green Yeezy T-shirt as a dress.
And later a giant sweatshirt as a dress, too. 
She also donned a bit of camouflage, which remarkably looked fine on her. 
Take it back to 2007, and Khloé's look was totally different.  
Lots of stretchy clothing that frankly looked totally casual. 
She definitely upgraded. 
Now, while that's not all the KUWTK cast members, that's all of the ones who appeared in this particular premiere episode Sunday night. Of course, we don't want to deny you the joy of seeing the others, so here: 
Here is what Kendall and Kylie looked like in the first episode: 
Never forget that they got caught messing around at the bar during it. 
And here is Rob (who did not appear in last night's premiere) looking like a baby compared to how he looks today: 
Overall, like the rest of us, this family is in far better sartorial shape than they were in 2007.