DOJ given until Monday to back up Trump's wiretapping claims against Obama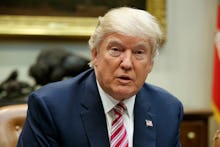 The House Intelligence Committee has given President Donald Trump's administration a deadline for furnishing evidence in support of his wiretapping allegations against former President Barack Obama. Trump must prove there was basis for his as-yet unsubstantiated tweet storm by Monday, according to NBC News.
For those who have forgotten about or who somehow missed the president's March 4 Twitter tirade, here's what Trump tweeted in the early hours of the morning:
"Terrible!" Trump wrote at 6:35 a.m. Eastern. "Just found out that Obama had my 'wires tapped' in Trump Tower just before the victory. Nothing found. This is McCarthyism!"
"Is it legal for a sitting President [sic] to be "wire tapping [sic]" a race for president prior to an election?" he added at 6:49 a.m. "Turned down by a court earlier. NEW LOW!"
"How low has President Obama gone to tapp [sic] my phones during the very sacred election process," Trump asked Twitter at 7:02 a.m. Eastern. "This is Nixon/Watergate. Bad (or sick) guy!"
A spokesperson for Obama issued a statement flatly denying the allegations shortly after Trump fired them off, and top White House staffers registered complete confusion upon waking to the bold claims. 
FBI Director James Comey asked the Department of Justice to publicly reject Trump's accusation, which the DOJ now has to bolster before Monday. 
Republican Rep. Devin Nunes, the House Intelligence Committee chairman, and Democratic Rep. Adam Schiff sent a letter calling for evidence to acting Deputy Attorney General Dana Boente on Wednesday. 
Meanwhile, on Sunday, Republican Sen. John McCain shared a similar sentiment regarding Trump's serious allegation against Obama. 
"The president has one of two choices: either retract, or to provide the information that the American people deserve," McCain said on CNN's State of the Union. 
It would be easy, McCain continued, for Trump to clear up the controversy he created: "All he has to do is pick up the phone, call the director of the CIA, the director of National Intelligence and say, 'Okay, what happened?'"
The evidence-gathering window is closing.