Gay veterans group OutVets allowed to march in South Boston St. Patrick's Day parade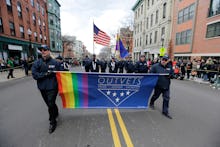 After the resignation of the South Boston St. Patrick's Day's grand marshal Dan Magoon and protests from political leaders and corporate sponsors alike, organizers have reversed a decision to prevent a gay veterans group from marching in the parade, the Washington Post reported.
Earlier in March, organizers of the parade had rejected gay veterans group OutVets' application to march, saying the the group's rainbow flag logo violated their code of conduct. OutVets had been allowed to march in two prior parades after a hard-fought battle to overcome a decades-long ban on their participation.
Gay activists and allies retaliated. Magoon resigned, while Mayor Marty Walsh said he would not march in the parade "unless this is resolved. Anyone who values what our city stands for should do the same."
As the Boston Globe noted, "Many politicians who call Southie home, from Lynch to state Representative Nick Collins to City Councilor Mike Flaherty, are willing to sit it out" unless the ban was reversed.
On Friday, OutVets posted to Facebook saying the parade's organizers, the Allied War Veterans Council of South Boston, had formally retracted the ban in a unanimous vote. According to the Washington Post, the vote is permanent.
"We are honored and humbled by all the outpouring of support that has been displayed for our LGBTQ Veterans — who are one of the most unrepresented demographic in our Veterans community," OutVets wrote. "We look forward to marching proudly on March 19th and honoring the service and sacrifice of those brave men and women who have given so much for our country."