Kellyanne Conway suggests spy cameras in microwaves could have surveilled Trump Tower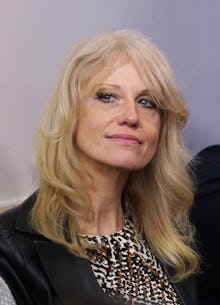 In perhaps the most bizarre comments to date about President Donald Trump's evidence-free allegation that former President Barack Obama wiretapped Trump Tower, White House adviser Kellyanne Conway suggested that the spying wasn't a wire tap at all. 
Instead, she obliquely hinted that surveillance of Trump Tower could have been done by one of several means, including secret spy cameras in microwaves.
"What I can say is there are many ways to surveil each other," Conway told Bergen County, New Jersey, newspaper the Record. "You can surveil someone through their phones, certainly through their television sets — any number of different ways."
She added that the surveillance could have been done by "microwaves that turn into cameras."
Conway has given zero evidence to back up the claim — which Justice Department officials must provide evidence of to the House Intelligence Committee on Monday. 
And on Monday morning she sought to clear her bizarre comments up in a tweet, saying her quip about secret spying microwaves "was about surveillance articles in news and techniques generally, not about campaign."
Still, on CNN Sunday, Sen. John McCain (R-Ariz.) said Trump should either provide his evidence or "retract" the allegation.
"The president has one of two choices: either retract, or to provide the information that the American people deserve," McCain said.
It was the second weekend in a row that prominent Republicans had been asked about Trump's evidence-free Twitter accusations and failed to defend the president — keeping the story in the news and overshadowing initiatives like his health care replacement plan. Not defending his claims reportedly makes Trump very angry.