This GOP congressman suggested Muslim babies are a threat to "our civilization"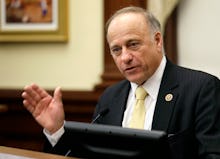 Iowa Republican Rep. Steve King appeared to publicly endorse the supremacy of white Western cultures, over those of non-white immigrants — again.
Responding to a tweet from a European right-wing Twitter account about "Islamists" in the Netherlands, King praised far-right Dutch politician Geert Wilders and said, "We can't restore our civilization with somebody else's babies."
Since King is an American politician who does not live in the Netherlands it's hard to see how "our civilization" could mean anything other than white people in that context.
On Monday King doubled down on his comments to CNN, telling them he meant "exactly what he said."
This is not the first time King has played with asserting the actual supremacy of white Western cultures. During the Republican National Convention King also asserted that white European cultures had contributed more to civilization than "any other sub-group of people."
King's tweet earned some rare intra-party condemnation from other GOP representatives and other conservatives.
Florida Republican Rep. Carlos Curbelo, the son of Cuban exiles, asked King if he qualified as "somebody else's baby" with the hashtag #ConcernedGOPColleague.
Former conservative independent presidential candidate Evan McMullin called King's tweet what it is: "white nationalism."
There was one person who did approve of King's tweet — former Ku Klux Klan grand wizard David Duke.