When will 'American Gods' premiere? Everything we know about the Starz series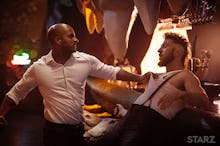 One of the most anticipated new shows of Spring is American Gods. The latest Starz series is based on the book of the same name from author Neil Gaiman, and is set to premiere on April 30 at 9:00 p.m. Eastern. 
American Gods plot details
The series is being helmed by Bryan Fuller, the man behind shows like Wonderfalls, Dead Like Me, Pushing Daisies and Hannibal. American Gods is centered around a man named Shadow Moon, an ex-convict released from prison who discovers his wife died. He is hired by a man named Mr. Wednesday to be his bodyguard and Shadow's life changes instantly. He's now involved in a world filled with magic and mystery and a war between gods. Old gods like Odin and Anansi are struggling to deal with new American gods like Technology and Media, and Shadow is caught in the middle. 
American Gods cast
The cast is quite large and filled with big names to play all these gods. Ricky Whittle plays Shadow Moon and alongside him is Ian McShane, Orlando Jones, Gillian Anderson, Emily Browning, Pablo Schrieber, Jonathan Tucker, Cloris Leachman, Peter Stormare, Kristin Chenoweth, Yetide Badaki and more. 
During a cast appearance at SXSW on Saturday, they discussed the tone of the show and how it's important to the political climate in America right now. "It's definitely a different show than we set out to make because the political climate in America shat its pants, and we are now telling immigrant stories in a climate that now vilifies immigrants," said Fuller.
The show is a fantasy drama that deals with a battle between old Gods and new Gods, but it will delve into themes such as faith, belief systems and immigration. "We as Americans are under a radical political climate that tends to lean cruel as opposed to compassionate. So we are excited to tell compassionate immigration stories, not only as a statement, but as part of the ongoing narrative of the series," Fuller explained. 
Mic has ongoing TV coverage. Please follow our main TV hub here.