Trump's top communications aides are busy defending his frequent golf outings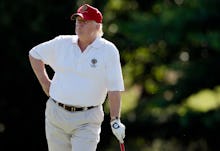 President Donald Trump golfed yet again Saturday, his ninth trip to the links since becoming president seven weeks ago, according to the Hill.
Trump's golf outings not only break some campaign trail promises, they also smack of hypocrisy. Trump repeatedly blasted former President Barack Obama for golfing during his tenure in the Oval Office.
In June 2015, right after he announced his bid for president, Trump told the Hill he "would rarely leave the White House because there's so much work to be done."
"I would not be a president who took vacations," Trump said at the time. "I would not be a president that takes time off."
However Trump has spent almost every weekend since he took office at the "Winter White House" in Florida, costing taxpayers tens of millions of dollars.
He's also golfed on those outings to Florida — something he railed on Obama for doing. "While our wonderful president was out playing golf all day, the TSA is falling apart, just like our government!" Trump tweeted in May. "Airports a total disaster."
There were many other times Trump tweeted in criticism of Obama's golf outings.
Yet Trump is doing exactly what he hit Obama for.
His communications staff, however, is angry that Trump's hypocritical behavior is making news.
White House press secretary Sean Spicer called reports on Trump's golfing "misleading."
".@POTUS met with senior members of his team to discuss #RepealAndReplace #Immigration," Spicer tweeted. "The picture in this tweet misleading and wrong."
Jason Miller, Trump's former communications director who resigned after affair rumors circulated, also called reports of Trump's golf outing "misleading.
"Misleading teaser picture here," Miller tweeted about the Hill's article on Trump's golfing. "@POTUS held a working lunch with several staff and Cabinet members yesterday (which story correctly notes)."