'Hearthstone' price increases to hit several regions for launch of Journey to Un'Goro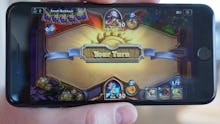 You're going to have to shell out a bit more money to get your hands on Hearthstone's card packs moving forward — if you live outside the United States, that is.
Blizzard announced a number of price hikes for card packs and other in-game items that will take effect on March 22, just in time for the launch of the Journey to Un'Goro expansion in April. The reason? 
"To align with local and regional market conditions," according to a post on Hearthstone's forums.
If you're planning on purchasing a bunch of packs once the Journey to Un'Goro expansion launches, consider snagging the prelaunch bundle now before the price increases take effect. Even though the price increases will take effect before the expansion launches, the price of the prelaunch bundle will not go up.
European countries seem to be affected most by this change, but other countries like Egypt, India and the United Arab Emirates are also included. We've embedded the updated prices below, but check out the full post on on Blizzard's forums for all the details.
Hearthstone price increase: Full price list
The new PC, Mac and Battle.net Shop prices will take effect on March 22, 2017. You can see the updated prices below:
More gaming news and updates
Check out the latest from Mic, including our deep dive into how female Overwatch players are dealing with online harassment, a cool Easter egg in the latest Pokémon Go update and everything that comes in the $300 Shadows of War: Mithril Edition.