Zac Posen adds his name to the robust list of designers who refuse to dress Melania Trump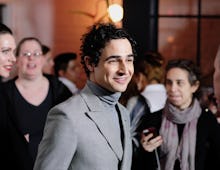 Famed American designer and current Project Runway judge Zac Posen is the latest designer to add his name to the ever-growing list of those who refuse to outfit the first lady.
In a new interview with the Daily Beast Posen — who has outfitted both Melania and Ivanka Trump in the past — stated he has "no current plans to dress members of the first family. Right now, I'm staying away from bringing my brand into politics."
Posen joins designers like like Marc Jacobs and Phillip Lim, who have spoken out rather measuredly about their decision to not dress the first lady. Their responses lie somewhere in the middle between designers like Rag & Bone's Marcus Wainwright, who called not dressing the first lady "hypocritical," and Kenzo's Humberto Leon who said no one should dress the current first lady.
But Posen went a step further in explaining the deeply personal reason why. "There are issues that are being questioned that are fundamentally upsetting to me — deeply: LGBT rights, immigration, funding for the arts, Planned Parenthood and women's rights. These are just issues that are very close to my heart, and I use my own private voice and funds to fight for them and in support of them. I think it's important to use your voice. I think that every brand and person has a right to be vocal."
Thus far, Melania Trump has taken to wearing a combination of established American brands — Ralph Lauren at the inauguration; Calvin Klein to tour a garden with the Japanese prime minister's wife; Michael Kors before Congress — and luxury European houses, including Alexander McQueen to a rally; Valentino for a bill signing and Givenchy for National Wear Red Day.
Despite opposition from the fashion world, Trump's ultimate power, that of her checkbook, supersedes any designer's decision as to whether or not they will dress her as she can simply purchase her wardrobe on her own dime. 
And oh how many dimes some of those dresses are costing her.