Lindsay Lohan announces new fashion line on Instagram; hints that it will include modestwear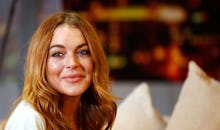 At just 30 years old, Lindsay Lohan has already had one hell of a life. She's gone from child actress and singer to perhaps the most infamous party girl of our generation. She's starred in iconic movies like Mean Girls and The Parent Trap, gone through some heavy shit like arrests, (lots of) rehab and being told to "cut the bullshit" during a tell-all interview with Oprah Winfrey. And now, Lindsay Lohan, who may or may not have recently converted to Islam, is living a seemingly calm life. 
She's a survivor. She's an icon. And now, according to her, she may just be a fashion designer. 
Over the weekend, Lohan posted a picture of herself wrapped in a studded headscarf on Instagram with the caption: "New fashion line coming soon..." and added a #fashion at the end, for those who didn't get the hint the first time. 
So far, the post has more than 158,000 likes and 5,000 comments, mostly from people excited about the idea that she's even thinking about dabbling into fashion. 
"Can't wait. So curious to see," one commenter wrote. Another: "This is a tremendous effort, keep the good work, make the fashion world a good place to stay." 
Because of the headscarf Lohan is wearing in this particular photo, many people are already thinking that the fashion line will be a modest one. Though the rumors of her conversion to Islam have been disputed by her family, at the very least, this could be an effort to help women of a faith she admires get the fashion they want. And with the modest fashion industry reportedly worth hundreds of billions of dollars, it wouldn't be a bad business idea either. 
But as with many things in Lohan's life right now, she'll be sure to keep us in the dark for a while about this one.