Pi Day Freebies: Where to get the best deals and discounts on March 14, 2017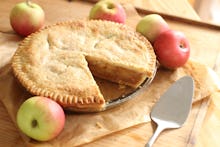 The sweetest day of the year is upon us: Pi Day! Or pie day, if you prefer dessert to math (but hey, the two aren't mutually exclusive). 
March 14th, or 3.14, is a better day than any to eat your favorite type of pie, especially if you can get it at a discount. And yes, pizza pies are included. Here's where to take advantage of Pi Day Deals across the country. 
Blaze Pizza
The DIY pizza chain will be selling personal pizzas for $3.14 in celebration of Pi Day! One per customer per store. 
Boston Market 
If you wanted your pie filled with poultry, take advantage of Boston Market's free chicken pot pie with purchase of a meal and a drink. 
Whole Foods Market
In honor of Pi Day, Whole Foods is offering $3.14 off any bakery pie or any large take-and-bake pizza.
Villa Italian Kitchen
Participating Villa locations will offer a whole Neapolitan pie for $3.14 on March 14. 
Stevi B's Pizza Buffet
Stuff yourself with all the pizza you can eat for only $3.14 on Pi Day.
Bojangles
This Southern chain will be offering three sweet potato pies for $3.14 all day on Pi Day, so you can gorge on fast food hand pies or maybe share with a couple of friends.  
Marie Callender's® + 10Below Ice Cream
This unusual partnership will give the first 314 guests at New York's 10Below Ice Cream shop a free rolled ice cream and pie inspired sundae in flavors like turtle pie and coffee ice cream and chocolate chip cookie pie dough with English breakfast tea ice cream. Since this year's Pi Day coincides with winter storm Stella, ice cream lovers will have to decide if waiting out in the cold is worth a frozen freebie. 
Bakers Square
Though it's not offering any discounts, Bakers Square restaurants will top their double crust fruit pies with mathematical Pi signs on March 13 and March 14 to celebrate the holiday. 
Magpie Artisan Pies
This South Philadelphia bakery will be offering a slice of its famed butterscotch bourbon pie for $3.14 on Pi Day. 
Pitfire Artisan Pizza
This California-based pizza chain will offer $3.14 gift cards to anyone who visits on March 14 and follows Pitfire on social media. The guest who can recite the most digits of Pi will also win free pizza for a year!
The Charles Hotel
If you need to get away from it all, and maybe order some room service pie, book a room at Boston's The Charles Hotel, which will be offering rates at 31.4% off on March 14 for reservations through April 30.