Samsung Galaxy S8 leak reveals release date, colors, specs and more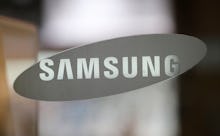 Samsung's much-awaited Galaxy S8 release is around the corner. The South Korean tech giant is slated to debut the devices at an event in New York City on March 29, and the new offerings will go on sale April 21.
There are two devices in the S8 line, a 5.8-inch handset and a larger 6.2-inch smartphone. The latter is being called the S8 Plus. According to KGI Securities analyst Ming-Chi Kuo, the smartphones will be available in seven colors: silver, gold, black, matte black, blue, orchid and pink.
Both devices, which will reportedly run on Android 7.0 Nougat, are rumored to have a 8-megapixel front-facing cameras — an upgrade from the S7 — a 12-megapixel rear camera and feature OLED displays with WQHD+ resolutions of 2960 × 2400.
Forbes reported the S8's home button will be removed and the back of the device will have four modules: a camera flash in the top left, a heart-rate sensor in the bottom left, a main camera in the middle and a fingerprint sensor in the right. The device will also feature an iris recognition sensor.
Models retailing in the United States, Japan and China will come equipped with Qualcomm's Snapdragon 835 processor, while handsets sold in Europe and other parts of Asia will have Samsung's Exynos 8895 processor. In Korean and Chinese markets, the smartphones will have 6GB of RAM; in all other markets, they will only come with 4GB of RAM. The two models will vary in battery size — the S8 will have a 3000 mAh battery, with the S8 Plus coming equipped with a 3500 mAh battery.
More news about the Samsung Galaxy S8
Stay informed about the Samsung Galaxy S8 before its release date. Find all the rumors, specs and leaks here. See how the Galaxy S8 will be different from previous models and how it compares to other upcoming Samsung smartphones.