Michelle Obama wrote model Yara Shahidi the college recommendation letter of a lifetime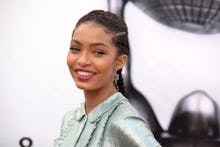 If there were ever a surefire way to gain acceptance into the school of your dreams, a letter of recommendation from the former first lady would be it. 
At least, we imagine such would be the case for 17-year-old model and Black-ish star Yara Shahidi, who casually mentioned in an interview with W magazine that her college applications included the praises of Michelle Obama.
"She is very amazing and such a supporter, which is something very surreal to say," Shahidi said, adding that the then-first lady also gave her a "go get 'em, tiger" back rub before her AP exams.
Shahidi last made a public appearance alongside Obama in October, when the two shared the stage at Glamour's "A Brighter Future: A Global Conversation on Girls' Education" event.
During their conversation, Shahidi mentioned she was in the middle of applying to college, where she hoped to study sociology. When Obama told her she got her own bachelor's degree in sociology from Princeton, Shahidi asked if she would write her a letter of recommendation.
"You got it," Obama replied, according to the White House transcript of their conversation. "You got it. I got you covered, kid."
Shahidi told W she plans to major in both sociology and African-American studies — once again following in the footsteps of the former first lady, who minored in African-American studies during her undergraduate years.
As Shahidi told Obama during their conversation on the Glamour stage, "Education has played such a key role in ... me having confidence and me having the ability to, I guess, vocalize what I wanted to say and give me the confidence to even be on this panel right now, because I had been freaking out — I'm still freaking out that I'm sitting next to you."
At the time, Shahidi couldn't help but fangirl over Obama, but after writing what is surely a glowing letter of recommendation, it's safe to say Obama feels the same way.