Winter Storm Stella is coming and everyone wants to find a "blizzard buddy"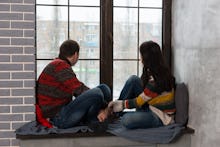 A massive snowstorm is expected to hit much of the Northeast on Tuesday, and it could dump more than a foot on New York and Boston — which means that everyone is rushing to stock up on essentials like bread, beer and, um, "cuddle" buddies.
Social media and message boards like Craigslist were inundated on Monday with people seeking so-called "blizzard buddies," both platonic and less-so, with whom they could wait out Tuesday's storm. One post in the "Men Seeking Men" section of a Manhattan Craigslist board offered "some fun before the storm. Drinks, make out, and more." 
Another, in the "Casual Encounters" section of a Brooklyn board, had the subject line "Blizzard Netflix and Chill - m4w (bk)."
"Blizzard is coming maybe we can chill inside and keep each other company all nite and all day while we wait the storm out," the post reads. "I'll be the gentleman of course make sure house is stacked with snacks and everything else we will need."
Buyer beware: Searches for "snow" on Craigslist will turn up offers for "ski adventures" in strangers' apartments that are almost definitely about doing cocaine and not about literal blizzard conditions.
But some posters are indeed just looking for a cuddle buddy. 
"We can hunker down with some good food, snacks, a few good movies," one post on a New Jersey-area Craigslist board said. The poster specified that he wasn't looking for sex but "maybe" some platonic cuddling.
In a Monday phone call, the poster, who identified himself only as Dave and said he was in his 50s, acknowledged that many women are "afraid to come to a man's apartment" alone, but said he was putting out feelers regardless. .
"There aren't more than a handful of women who might even be interested in something like that," he said.
If past storms are any indication, dating apps will also see increased traffic on Tuesday. "Historically, we have observed that bad weather is great for online dating activity, as people spend more time indoors," Jimena Almendares, then a chief product officer at dating website OKCupid, told NBC News in 2016. OKCupid sees a 10% increase in activity on rainy days, NBC News reported at the time, and during 2015's "Winter Storm Juno," activity went up by 34%.
But does finding a blizzard boo actually work out? Dave said he's posted "many times" looking for people to spend storms with — he actually found someone to spend 2012's Hurricane Sandy with, he said, and "that was nice." But Dave said his posts usually get just a few responses and "usually it doesn't go very far" — his conversations often don't make it past emailing back and forth.
Even though Dave said he's only looking for a platonic blizzard buddy, he specified that he was looking for a woman to spend the day with because, he said, he just doesn't like male friendships. But he's willing to meet for coffee or talk on the phone before his female companion comes over to spend the day — and then let her choose the plan.
"[We could] pick up some good food, watch some movies," Dave said. "It would be more about what she's comfortable with."
Cuddling would be nice though, Dave said, adding that he's single by choice and lives alone but misses "closeness." He's hired professional cuddlers before, he said. "Cuddling can bring a certain amount of intimacy."
So does Dave think his post will turn into a day of platonic cuddling a delicious snacks? "I'm hopeful," he said, before adding, "I don't think it will."