'Crash Bandicoot N. Sane Trilogy' New Demo Footage: Watch someone play a full level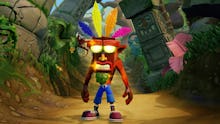 You only have a few more months to wait before the June 30 release date of the Crash Bandicoot N. Sane Trilogy — a remastered collection of three different Crash Bandicoot games — but PlayStation just released new footage of an entire level to hold you over.
There's a bit of unexplained weirdness in the video — for example, whoever's playing inexplicably avoids all the checkpoints and doubles back about halfway through solely to jump into the water, kill themselves, and start the whole level over again.
That said, it looks like Crash Bandicoot N. Sane Trilogy gets a lot of little details about the original Crash Bandicoot games exactly right. For example, the way Crash hangs in the air for just a moment at the top of his jump before flipping at the last second is enough to make anyone giddy with nostalgia.
New Crash Bandicoot N. Sane Trilogy footage
The video shows an entire play through of the Hang Eight level, a water-themed level from Crash Bandicoot 2: Cortex Strikes Back. Check it out:
More gaming news and updates
Check out the latest from Mic, including our deep dive into how female Overwatch players are dealing with online harassment, a cool Easter egg in the latest Pokémon Go update and everything that comes in the $300 Shadows of War: Mithril Edition.