Winter Storm Stella 2017 Update: Latest forecast, path and which states will get hit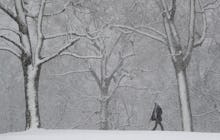 Get your shovels ready. 
A powerful winter storm is bearing down on the Northeast United States to dump up to two feet of snow over the region and remind us that winter isn't officially over until March 20.
Snow fell over the Midwest on Monday, cancelling 3,000 flights — including 600 grounded flights at Chicago's O'Hare and Midway airports. 
But on Monday night, the storm will become a Nor'easter and begin to bombard the mid-Atlantic region — and possibly New York City — with heavy snow. On Tuesday, blizzard conditions will move into the Northeast, pelting the area with a possible 2 to 4 inches of snow every hour. Heavy winds of 55 to 75 miles per hour are expected on Tuesday morning. The snow is expected to lighten later on Tuesday toward the southern part of the region, but much of New England will continue to see often heavy snow throughout the night. Snow and strong winds are expected Wednesday, as well, though conditions are not expected to be as intense.
The storm has already obstructed air travel, and is expected to create dangerous driving conditions on the roads and close schools in Northeast states. The heavy snow and brutal winds could also potentially cause widespread power outages. 
Boston is likely to end up with more than a foot of snow, and parts of New England — including New Hampshire and Maine — could potentially see nearly two feet of snowfall to go with possibly damaging winds. The National Weather Service is warning against traveling at the height of the storm Tuesday. 
Philadelphia and the surrounding area is expected to get 8-12 inches of snowfall beginning Monday night. 
New York City, along with northern New Jersey and southern Connecticut, is under a blizzard watch and could see its largest snowstorm of this winter. If New York receives more than 18 inches of snowfall, it will become one of the top ten recorded snowstorms in the city's history, according to meteorologist Bill Karins. Mayor Bill de Blasio warned New Yorkers that the storm would be "significant" and urged them to prepare for "snow and dangerous road conditions."
On Twitter, #blizzard2017 and #snowmageddon2017 were both trending Monday morning as winter-weary residents of impacted states braced for the late-season storm.