A new washing machine with a "curry button" answers every Indian food lover's prayers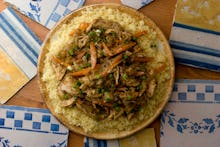 Nothing ruins the pure joy of stuffing your face with a feast of Indian food like looking down to see spots of brightly colored sauce splattered across a beloved shirt.  The smart folks at Panasonic are onto the problem — and after years of research, they've finally figured out a way to combat pesky curry food stains. 
Enter: A washing machine in India that has a "curry" button. Researchers at Panasonic analyzed the ingredients in typical Indian household curry dishes and then optimized time and water temperature to remove curry stains, the BBC reported. 
Curry stains are especially difficult to remove from clothing because of turmeric, the bright yellow spice found in many Indian dishes. Turmeric contains curcumin, a compound that isn't water soluble, Food Republic noted, explaining that drying your clothes in direct sunlight can help get out troublesome curry stains. 
Panasonic has sold about 5,000 machines so far, and they retail for roughly 22,000 Indian rupees, aka $330, the BBC noted. That's 10% more expensive than other washing machines.
But really, can you put a price on being able to save your favorite tops from death by chana masala? This technological innovation is priceless, so here's hoping Panasonic shares the love with American consumers in the near future. 
Panasonic did not immediately respond to Mic's request for comment.