Cecily Strong wears "Trans rights are human rights" T-shirt during 'SNL' curtain call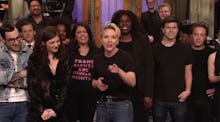 This week's Saturday Night Live was chock-full of memorable moments including the debut of Ivanka Trump's "Complicit" perfume and a sketch showing viewers a future in which an entirely unprepared Donald Trump faces an alien attack.
A lesser talked about moment happened after the show, during SNL's curtain call. Sandwiched between host Scarlett Johansson and musical guest Lorde, stood Cecily Strong wearing a five-word statement emblazoned on her chest: "Trans rights are human rights."
The small but poignant gesture was likely in response to an epidemic of deadly transphobic violence: In the first two months of 2017, seven transgender women of color were reported killed. 
Saturday Night Live doesn't exactly have a great track record when it comes to advocating for transgender people. Weekend Update host Colin Jost faced fervent backlash in November for a joke making light of gender identity. 
Nonetheless, Strong wearing an explicitly pro-trans-rights T-shirt (a variation of which can be purchased here for $30) on a stage as far-reaching as SNL's is a big damn deal.