'American Crime' season 3, episode 2 plot details, promo video and more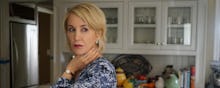 On Sunday night, one of TV's most acclaimed shows, American Crime, returned for its third season. The new installment of the ABC anthology drama — starring Felicity Huffman, Regina King and Sandra Oh — tackles the subject of modern slavery. 
American Crime's third season has been earning exceptional reviews for its handling of the controversial topic and the performances from its all-star cast. This follows the show's lauded second season that won King an Emmy for her performance.
American Crime season three, episode two plot details
American Crime began its third season by introducing us to new characters. Set in North Carolina, the premiere established the lives of undocumented workers whose lives slowly begin to unravel as they question themselves and their safety. 
In season three's second episode, we get a deeper look at the lives of these workers. After discovering that a fire at her family's farm killed several of its undocumented workers, Jeanette (Huffman) begins to become suspicious. She questions her family's intentions and presses her in-laws for details regarding the events.
Elsewhere in the episode, Kimara makes Shae testify against her former pimp, which proves to be a trying experience. Isaac watches out for Coy as the latter adjusts to his new life on the farm, and Luis continues his ongoing search for his missing son. 
American Crime season three, episode two promo video
In the promo spot for episode two, we see Kimara press Shae about her prostitution. "You tell me, that that felt right to you. Taking money for sex," she says tearfully in the video. She's attempting to help the girl, but it becomes trying. 
We also get a look at Jeanette as she continues to ask for details regarding the fire. "People died and you denied it," she says. 
When and where to watch American Crime season three, episode two
You can watch the next episode of American Crime on ABC at 10 p.m. Eastern on Sunday. If you missed the premiere, you can catch up on ABC.com. Just select your cable provider, sign in and stream away. 
Mic has ongoing American Crime coverage. Please follow our American Crime hub here.