One tour company founder explains why he makes a painful political past a part of the tour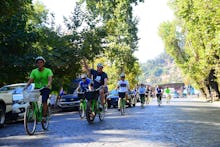 Opinion: Mic invites contributors and staff members to offer commentary and context about news and timely issues.
Peter Lewis co-founded La Bicicleta Verde, his tour company in Santiago, Chile, with the mission of providing tourists and travelers with an authentic look at Chilean culture and people. True to that mission, I walked away from the "Parks and Politics" tour, described as "a perfect cocktail of politics, landmarks and green areas," with a new, more comprehensive understanding of Chilean culture.
"I don't think you can understand Chilean psyche without understanding their political history," Lewis told me. "The greatest thing about visiting Chile is the Chilean people. It's not Patagonia, it's not the Andes, it's not the Pacific Ocean, it's not the wine, it's not the desert, it's the people." 
Lewis, an American ex-pat who studied international politics at the University of Chile, co-founded La Bicicleta Verde with Joel Martínez, a lawyer and writer.
The afternoon tour I took on the same March Monday that I spoke to Lewis, "Parks and Politics," was led by a guide named Rodrigo. He led us as we cruised on our neon green bikes through Santiago's beautiful parks and neighborhoods, periodically stopping along the way to tell us details about history and culture.
The final stop of the tour was at the government palace, Palacio de la Moneda, where we parked our bikes on the sidewalk and started walking toward the front of the square. We were stopped by a policeman. The tour guide, Rodrigo, and the police officer went back and forth in Spanish for a moment, and then he had us turn around. I asked what the problem was.
"He said we can't park our bikes there, but I asked him if it was illegal, and he said 'No.' So I said, 'OK then.' We will sit in the back of the square instead," Rodrigo told me.
I asked him if we should move our bikes. "It's not illegal, so no," Rodrigo said.
Rodrigo explained to me that they were having this issue more and more often at this stop of the tour. He said that when they give the tour in Spanish, the police give them dirty looks and hassle them about parking their very recognizable bikes, while seeming to ignore the dozens of other bikes parked all over the square.
This, Rodrigo said, is because when the "Parks and Politics" tour stops at Palacio de la Moneda, the group sits in the grass outside of the palace and discusses the political history of Augusto Pinochet's dictatorship, a subject that is still controversial in Chile.
But La Bicicleta Verde isn't concerned that they're too controversial; they are concerned with giving tour-goers what they feel is a genuine understanding of Chilean people.
"If you're trying to understand this complex nutshell of Chilean culture, one of the layers you need to peel back is the political history and that they are a divided people," Lewis said. "A third of people love Pinochet, a third of people hate Pinochet and love Allende and a third of people don't want to talk about politics."
In 1970, Salvador Allende became the first Marxist president in Latin America to be elected through democratic elections — he did not win an overall majority of the votes, though, as there were more than two candidates.
His socialist and collectivist reforms, coupled with a declining relationship between the United States and Chile, contributed to an economic crash and rising social unrest. On Sept. 11, 1973, a military coup led by Augusto Pinochet overthrew the Allende regime by bombing Palacio de la Moneda and occupying the square where I sat with Rodrigo on our tour.
During the coup, Allende is believed to have committed suicide by shooting himself in the head with an assault rifle. While that is official story, questions about the exact circumstances of his death in 1973 lingered for years.
For the next 17 years, Pinochet's military dictatorship ran the government. The regime controlled the media and radio stations, and leftist journalists, musicians and artists, along with thousands of other socialists and Allende supporters were detained, tortured, exiled or killed.
Despite the travesties against human rights committed by the regime, the dictatorship left Chile with a lasting strong economy, and Chileans remain divided regarding Pinochet's legacy.
In accordance with a constitution that Pinochet implemented in 1980, elections were held in 1988 and the Chilean people voted against the regime. Democratic presidential elections were held the next year, and Pinochet left the presidency in 1990.
It is easy to see why tour operators would want to avoid discussing such politically fraught topics with tourists who might have no background knowledge of Chilean history. But including those topics convey a deeper understanding of Chile today, Lewis said.
"Companies don't want to be controversial. Most tour guides around the world think talking about emotional topics should be avoided because tourists want to be happy while they are on vacation," Lewis said. "People conflate happiness with lack of knowledge. But happiness is more complex than that. You can be happy by knowing someone's essence."
About the author: Bennett Slavsky is currently working and writing in Chile. He has worked throughout Michigan as a freelance writer and has been featured in such publications as the Grand Haven Tribune and the Detroit Free Press. He has a background in sustainability and is now working on writing and digital marketing at Keteka.