PA State of Emergency 2017: What you need to know about the incoming storm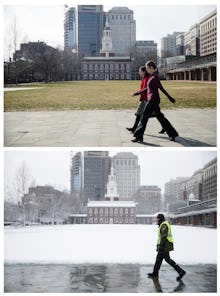 As the Northeast braces for a massive snow storm on Tuesday, the state of Pennsylvania is urging its residents to get ready.
Pennsylvania Gov. Tom Wolf signed a "Proclamation of Disaster Emergency" on Monday afternoon in advance of the impending storm. The proclamation is not a state of emergency, the statement noted, as it does not completely prohibit travel, but it allows additional resources to be deployed in the areas most affected by the storm.
"We are preparing for the most significant part of the storm to hit the eastern half of the state from Monday night through Tuesday's commute with significant winds to follow and cause additional concerns," Wolf said in a statement. "I ask residents and commercial drivers across the commonwealth to prepare to avoid unnecessary travel on roadways during this time – as to let road crews and emergency responders do their jobs and minimize dangerous travel."
The proclamation also implements temporary travel restrictions on interstates throughout the state, which will go into effect at 10:00 p.m. Eastern time Monday night. The restrictions will enforce a 45 mph speed limit and prohibit tandem truck trailers, empty trailers, towed trailers, buses, recreational vehicles and motorcycles.
As of Monday morning, here's what to expect from the impending storm throughout the state.
Philadelphia/Eastern PA
Eastern Pennsylvania and the Philadelphia metro area will get the most significant snowfall on Tuesday. The National Weather Service is forecasting 18 to 24 inches of snow for the region, which includes Philadelphia, Bethlehem, Reading and Allentown, and stretches east into Trenton and central and northern New Jersey.
The NWS's winter storm warning for the area will remain in effect from 8 p.m. Eastern on Monday through 6 p.m. Eastern on Tuesday. Residents are urged to travel only in the event of an emergency, and heavy snow combined with strong winds of up to 35 mph means power outages are possible throughout the region.
Central PA
Central Pennsylvania won't get quite as much snow as the eastern region, but the totals will still be significant. The winter storm warning for the area — including Lancaster, Hershey, Harrisburg, York, Gettysburg and State College — is currently forecasting 9 to 15 inches of snow, though totals of over 18 inches are possible in the Pocono Mountains and middle-to-lower Susquehanna River Valley. The worst part of the snow is expected to fall overnight through mid-morning Tuesday.
Further west, the Laurel and Allegheny Mountain areas — including Warren, McKean, Elk, Clearfield, Cambria and Somerset counties — are expected to receive 7 to 11 inches of snow.
Pittsburgh/Western PA
The westernmost part of the state will still see significant snowfall in many areas. Winter storm warnings are in effect in the eastern and northernmost parts of the region stretching into Ohio and West Virginia, with 8 to 12 inches of snow forecasted for areas including Indiana, the Laurel Highlands, Erie and Meadville.
The Pittsburgh metro area, meanwhile, is only under a winter weather advisory, with an accumulation of 4 to 8 inches expected Monday evening through Tuesday night.
1:55 P.M.: This post has been updated.