At least 50 dead after landslide at Ethiopian garbage dump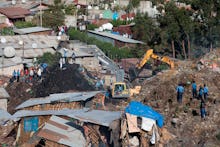 A massive landslide at a garbage dump near the Ethiopian capital of Addis Ababa on Saturday killed more than 60 people, Communications Minister Negeri Lencho confirmed to CNN.
Lencho said officials are still investigating what caused the mountain of trash deposited at Koshe Garbage Landfill to give way. About 150 people were at the landfill when the landslide occurred, according to NPR, and many Ethiopians live in close proximity to the dump to take advantage of inexpensive housing options. Others flock to the landfill to scavenge for discarded items that can be sold for a profit. 
The Ethiopian government has transferred 290 uninjured landfill residents to a temporary shelter in Addis Ababa, CNN reported. 
On its Facebook page, the Canadian nonprofit "Hope for Korah" claimed that "many are grieving and frantically still looking for friends and family." The organization also wrote that digging continued "through the night." Some people, trapped inside the walls of garbage, used their cell phones to make desperate calls to rescuers.
One resident, Assefa Teklemahimanot, told the Associated Press that most of the victims were likely women and children.
"It's a sad story because the government has been trying to resettle the people residing in the area," Lencho told CNN. 
Workers are still searching for survivors in the rubble, he said.