Watch two women step in to defend Muslim subway riders in NYC from an angry Islamophobe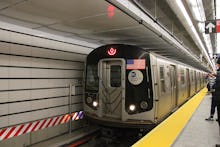 In a video that was recently uploaded to YouTube, two women defend two Muslim subway riders from another rider who was verbally assaulting them on the E train in New York City.
The female subway rider — who states in the video that she is Puerto Rican — berates one of the Muslim riders by asking why they live in the United States. During the video, the woman is asked if she's bothered because he looks Indian-Muslim, to which she responds "yes."
"Why are you here?" the woman is heard shouting. "Why are you in this country if you're not with us?" 
A voice offscreen asks "Who's us?" to which the woman gestures at all of the train and says, "Us. And maybe they're not taking my back, I know nobody taking my back. And that's a shame, but I will take my own back." 
"Nobody on this train is with you," the offscreen voice interjects twice during the woman's remarks.
Another woman then steps in and challenges the ranter to stop harassing them.
Then another woman, who identifies as half-Chinese and half-Peruvian in the video, jumps in to stand up for the Muslim riders in Spanish. 
"Whether you're born from here, Puerto Rico, wherever you are from," the woman says. "I don't like the way you're treating her. It's rude, we're here in it together, OK? We're all in this together. Whether we like what's going on in the government or not."
She then told the ranter that as a true American, she should think of everyone — including Muslims — as her brother and sister.
"You're a grown woman," she said. "You suck it up and you defend your brothers and sisters because that's what you are. If you're a part of this country, you're brothers and sisters with everyone."