Special Olympics 2017: 4 athletes with incredible stories who you need to watch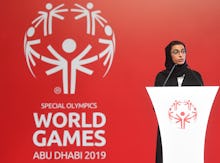 On Tuesday, the 2017 Special Olympics World Games will kick off in Austria, with nearly 2,700 athletes gearing up to compete to win gold in their respective events.
The Special Olympics are always feats of triumph; the culmination of countless hours of hard work by dedicated competitors who have had to overcome seemingly insurmountable obstacles just to make it to the opening ceremonies. 
This year, those athletes include an Alpine skiing champion from Chicago, a gold-winning American snowboarding star who almost gave up her passion after being bullied, and a British figure skater who was told she'd never walk again.
Read on below for four of the Olympian's incredible stories, and tune in on March 14 to watch the games unfold.
Steve McVoy, Team USA
For 37-year-old Steve McVoy of Chicago's Arlington Heights, Alpine skiing is more than just a sport — it's his life's passion.
Steve McVoy took up skiing at 7-years-old, one year after being diagnosed with a cognitive disability, his mother, Pam McVoy, told the Chicago Tribune. 
"Skiing has built up Steve's confidence and has helped him acquire new friendships," she said.
Meg McFarlane, Team Britain
Born with Down's syndrome, Meg McFarlane of England underwent open heart surgery when she was just 18 months old to fix holes in her heart.
"When they had stitched her back up, she had stopped breathing. Effectively, she had gone," her father, Cory McFarlane, told ESPN. "They revived her, but at one point they said she would struggle to walk. We were determined that wouldn't be the case."
But Meg, determined to prove everyone went on, was figure skating by age 5.
Now, she will travel to Austria to compete for gold in the Special Olympics.
"It makes me feel happy, and I want to make my family proud in Austria," she told ESPN. "I want to do my best for my coach and the team."
Mina Bahgat, Team Netherlands
Mina Bahgat fled anti-Christian violence in Egypt for the Netherlands in 2009, along with his mother and brother. Once in Europe, newfound safety meant new room to pursue his passion: ice skating.
Since making the move, Mina has become more confident, his family told ESPN in an interview, and more independent as well. 
"He wants to participate in the Special Olympics because for the first time in his life, he has a dream," Mina's mother told ESPN.
Daina Shilts, Team USA
Daina Shilts, the 25-year-old snowboard champion and Special Olympics veteran, has already struck Olympic gold, in a way: Her campaign to get to the 2017 games in Austria was sponsored by another Olympic great, snowboarder Hannah Teter.
Teter hopes to raise at least $17,500 for Shilts and the rest of the U.S. Special Olympics Snowboarding team so they can compete this year.
"Before I was at the World Games, I was very quiet and shy and didn't like showing people how good I was at snowboarding," Shilts wrote on her GoFundMe page. "I came back more social and wanted to actually talk to people about myself and about my love for snowboarding."
Although the fundraiser set up by Teter is still shy of its goal, Shilts confirmed in a March 5 Facebook post that she would be attending the Olympic games in Austria.