Northern Irish police raided pro-choice activists' homes on International Women's Day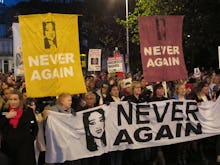 A Northern Irish politician has informed the Independent of multiple police raids that took place in the homes and workplaces of pro-abortion rights activists on International Women's Day. 
According to the outlet, Belfast, Northern Ireland, authorities carried out the raids in search of abortion pills, which are illegal as abortion itself is illegal in Northern Ireland except under circumstances where the mother's life or wellbeing is at risk. 
And that the searches took place on International Women's Day was no accident, the Independent reported: Police purposely conducted the raids when they knew many feminist activists would be otherwise occupied at rallies and protests.
"Women who buy this medication are invariably in a very difficult situation. Indeed it's often poorer women who turn to the internet because they cannot afford to travel outside of this jurisdiction to access reproductive healthcare," Clare Bailey, a deputy member of the legislative assembly who represents the area of Belfast where the raids reportedly occurred, told the Independent. 
"The lack of reproductive rights here in Northern Ireland means that women are criminalized and vilified."
Indeed, people in Northern Ireland can face a lifetime sentence for receiving an abortion, though they can't be punished for traveling abroad for the procedure. 
But those who can't afford to travel to receive an already-costly procedure have had to find alternative means of terminating an unwanted pregnancy, which includes the abortion pills Belfast authorities were after on Wednesday.
In June, the Belfast Telegraph reported that pro-abortion rights activists delivered abortion pills by drone to those in need in Northern Ireland.
According to the outlet, plainclothes police officers spoke to the advocates and recorded the drone landing, but didn't confiscate the pills, which were prescribed by a doctor. 
Courtney Robinson, an 18-year-old who took the pills told the Telegraph that activists wouldn't let authorities scare them into inaction. 
"We are here to say we are going to defy the law in helping women obtain these pills, and we are going to work to make the law unworkable and stand in solidarity with all those women who want to have an abortion and have the right to do so in Northern Ireland," Robinson said.