Searches for the word "complicit" spike after 'SNL' Ivanka Trump sketch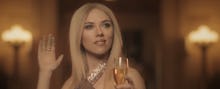 This week's installment of Saturday Night Live featured a spoof fragrance ad skewering Ivanka Trump's crucial-but-undefined role in her father's web of chaos. While the sketch struck many viewers as good and a zinger, the meaning of the imagined fragrance's name — "Complicit" — and therefore of the entire segment, may have been lost on some viewers. 
On Sunday, Merriam-Webster tweeted that the word complicit was its "#1 lookup" and attributed the spike to SNL's shade-throwing. 
Complicit, according to Merriam-Webster, means "helping to commit a crime or do wrong in some way." Dictionary.com, which reported that "searches for 'complicit' jump[ed] nearly 2000%" after SNL used the word to describe the first daughter, defines it this way: "Choosing to be involved in an illegal act." 
To gain a better idea of how the word is used in a sentence, we can look to SNL: "She's a woman who knows what she wants and knows what she's doing — complicit."
A surge in search isn't definitively indicative of anything specific: It could be that people knew what the word meant but wanted a precise definition, or confirmation of the spelling. It does, however, suggest some popular curiosity about what Ivanka might be up to.
At this juncture, her involvement in President Donald Trump's dealings is difficult to gauge because details on the dealings themselves are murky. As Trump's "favorite" daughter, however, Ivanka reportedly exerts an inordinate amount of influence on his decision-making process. That she has so far failed to use it has led critics to accuse her both of hypocrisy and tacit approval. I.e., of being complicit.