Pay attention to what Frank Ocean is doing because it's the future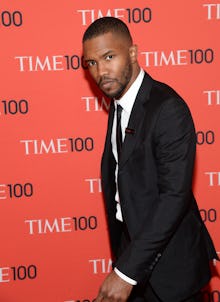 Trying to predict Frank Ocean's movements these days is like trying to tie a bell on Waldo, or getting the jump on Carmen Sandiego. It's been like this for four years, ever since Ocean began traveling the world to put together his last doubleheader of Endless and Blonde. However, despite the silence then, fans knew the general outcome: There would be an album filled with something R&B-like, and it would be dope.
Nowadays, we have no such sign posts. Ocean could come from anywhere at anytime with any kind of music. The freedom is exhilarating. 
Ocean's "Chanel" release Friday restarted the intrigue. No advance notice, no pomp, no circumstance — he simply played it during the second episode of his Blonde radio show on Apple Music. 
Soon after, it popped up on the rest of the major streaming platforms, for his audience's health and education. It didn't "break the internet," as surprises have been doing since Beyoncé's self-titled — but it did something arguably more important. It signaled to the world that Ocean doesn't intend to disappear again, he's found a way to maintain his mystery and continue getting the mainstream to care about music that's more multidimensional and mystifying than anything it's exhibited an appetite for in the past.
A look at Ocean's past four months shows he's made a habit out of doing the impossible over and over again. He got the too-cool internet art crowd to care about Black Friday with his one-day Blonde vinyl release. He won the Grammys without even attending by leading an understated and well-articulated boycott. He morphed a Calvin Harris track — "Slide" — into a must-hear, adding unexpected warmth and subtlety to a song that would have likely been a toss-off radio bop in anyone else's hands. 
On Friday, he cut "Chanel," a moody and careful meditation on black masculinity and bisexuality, with a run down of new boasts fresher than anything on the recent Def Jam sampler:
"I rubber band a bunch of thousand dollar Delta gift cards."
Both of 2017's tracks operate with an attention to experience and a level of emotional honesty that feels rare, as far the headline-grabbing music is concerned. Both resist delivering simply the one-word emotional rewards that we've come to expect from many of hip-hop and R&B's major players. They feel like they contain entire albums in their flows. This feels like the much-lauded post-album world we were promised years ago, though it's literally just  Ocean dropping unpredictable jewels when he feels he has something we should hear.
This new space Ocean has carved for himself developed out of the coup he pulled back in August, with his one, two-punch release of Endless and Blonde. The first freed him from his contract with Island Def Jam Music Group; the second he released through Apple Music via his infant label, Boy's Don't Cry, which the world once thought was going to be the name of his third album. 
Look back through old articles hyping up that release and it seems as if what Frank actually wanted us to be paying attention to was his music business revolution.
In 2016, Kanye West took to Twitter to demand that radio play Ocean's new music. They didn't, because it's not radio music. 
None of the standard measures of success seem fit to match what Ocean is attempting. His releases aren't crafted to top charts or to disseminate rapidly and easily through the social sphere. He didn't submit Blonde or Endless for Grammy consideration because it wasn't made for that venue or to reinforce any of the old business models that award show supports. Instead, his music creates a more personal, private connection with the listener, who, to find more Ocean, will have to stay engaged and on alert while his musings slip out into the ether. And it seems like Ocean is still making his ends because he's given fans an incentive to return. 
"What I produce will sound and feel unlike anything you'll hear anywhere," he's essentially broadcasting these days, and he lives up to it time and time again.
In many ways, Ocean is continuing the legacy of innovation that Prince worked for years to try and introduce to the mainstream, both in terms of career management and musical excellence. "The most important thing is to be true to yourself, but I also like danger," Prince once said. "That's what's missing from pop music today. There's no excitement or mystery." 
Ocean is reviving that vision of music's future in flying colors, and as he fills in more of the space, it will undoubtedly be a sight to behold.
Mic has ongoing Frank Ocean coverage. Please follow our main Frank Ocean hub here.