Hidden Valley's ranch-dressing fountain is the accessory you never knew you needed, maybe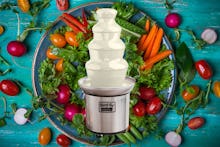 If your blood type is ranch dressing, we've got some good news. For $100, ranch lovers can purchase a "ranch fountain" that comes with a dozen 36-ounce bottles of Hidden Valley Original Ranch. 
That computes to a whopping 27 pounds of the stuff. (Based on ranch prices at Walmart, 27 pounds of Hidden Valley would cost roughly $66 before tax. So, this fountain plus ranch deal is a serious bargain.)
But back to the ranch fountain. This glorious piece of machinery stands 1.5 feet tall and has the capacity to pump two pounds of dressing over four tiers. The streams of creamy white salad dressing maybe don't look quite as luxurious and seductive as cascading waves of chocolate, but the sleek marbled white is certainly a statement look. 
While certainly not a necessary kitchen gadget, the fountain inspires. You'd never have to refill your ranch bowl at a buffalo chicken-wings party. Guests could dip pizza in it! You could keep it on the healthier side with a spread of vegetables or get creative with tater tots, pretzels or french fries. The sky — or the amount of ranch you have on hand — is truly the limit. 
You'd best be prepared that the show-stopping ranch accessory might be polarizing among your guests. The Washington Post called it "revolting milk rot" in a piece describing why the dressing is "what's wrong with America." Meanwhile, Grubstreet dubbed it "America's greatest condiment" in October 2016, when chefs began using the buttermilk-based dip in sandwiches, on pizzas and more. 
If the ranch fountain is your dream come true, you can order it on Hidden Valley's "Ranch Outlet," a site featuring a slew of ranch-themed products including ranch shirts, phone cases and a $50 "jewel-encrusted" ranch bottle.
The fountain has an estimated March 27 ship date, so feel free to send out those party invites ASAP.