'Game of Thrones' season 7: Ed Sheeran and 5 other celebrities rumored to appear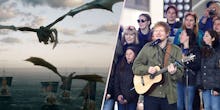 Game of Thrones is getting some more star power for its seventh season. As the HBO series begins winding down with its final 13 episodes, fans will be able to catch some familiar faces in Westeros.
At their South by Southwest panel Sunday, Game of Thrones showrunners David Benioff and Dan Weiss confirmed that musician Ed Sheeran will make an appearance in season seven. And it's not because Sheeran reached out as a fan of the series.
"For years we were trying to get Ed Sheeran on the show to surprise Maisie [Williams], and this year we finally did it," Benioff explained.
Williams hasn't responded publicly, but Sheeran tweeted about the casting news shortly after it broke.
Benioff and Weiss didn't say anything more about the "Eraser" singer's role or when, exactly, he would appear. It's possible viewers might not even spot him. As Vanity Fair noted, members of the band Mastadon were unrecognizable as "zombified wildlings" in season five.
Sheeran is not the only star iewers will have to watch for when season seven premieres. Below are four other celebrities who are either confirmed or rumored to make guest appearances on the new season of Game of Thrones.
Noah Syndergaard
New York Mets pitcher Noah Syndergaard is such a huge Game of Thrones fan that he uses the theme song as his walk-up music. Needless to say, he jumped at the chance to appear in the series, telling MLB.com that he "couldn't say no" when he was invited to participate.
The baseball player filmed his scene in November in Spain. But don't expect him to get major screen time. According to the New York Post, Syndergaard is only an "extra."
Jim Broadbent
Harry Potter alum Jim Broadbent is set to appear in season seven in a mysterious role. While his character has not been confirmed, fans are speculating he'll be playing Maester Marwyn. In the books, Maester Marwyn meets with Samwell Tarly at the Citadel and later travels to see Daenerys. 
Bastille
Indie band Bastille may — or may not — be appearing in season seven. Rumors circulated in January that the band was in Ireland filming a scene as wildlings. However, lead singer Dan Smith later clarified the band was just touring the set. 
Is Smith telling the truth or just keeping the band's appearance a secret? 
Conor McGregor
This is another guest appearance that's still up in the air. Mixed martial artist Conor McGregor was reportedly approached to make an appearance as a crew member on Euron Greyjoy's ship. McGregor denied the reports, but he could just be trying to throw off fans.
Angela Lansbury
Actress Angela Lansbury is another famous face rumored to appear in season seven. Unfortunately, a rep for Lansbury told Entertainment Weekly that any reports of the Murder, She Wrote star appearing in the show is "not accurate." However, Jon Snow's fate was kept a secret, so Lansbury's addition could be another big reveal.
Game of Thrones season seven will premiere on HBO on July 16.
Mic has ongoing Game of Thrones coverage. Check out our main Game of Thrones hub here.