How much snow will New York City get? Here are the snow totals expected for the Big Apple.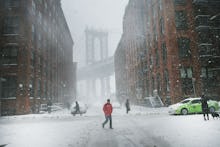 Residents of New York should prepare for a potentially historic blizzard on Tuesday that could blanket the Big Apple in nearly 2 feet of snow.
The National Weather Service upgraded a previous blizzard watch to a blizzard warning Monday morning, meaning that significant snowfall, strong winds and possible whiteout conditions will soon be on their way. The city has issued a hazardous travel advisory for Tuesday in response to the incoming storm.
"We're preparing for a significant storm on Tuesday, and New Yorkers should also prepare for snow and dangerous road conditions," Mayor Bill de Blasio said in a statement. "Besides the snow, it will be cold. We urge you to avoid unnecessary travel and help keep roads clear for sanitation crews and first responders."
Snowfall total and weather conditions
As of Monday morning, the NWS forecasted 20 inches of snow for New York, beginning late Monday and going through Tuesday. The NWS predicts a minimum of 11 inches will fall on the city, with a maximum potential of 23 inches. Outside the city, blizzard warnings are also in effect for parts of Long Island, southern Connecticut, New York and northern New Jersey.
The NWS predicted the snow could fall at a rate of two to four inches per hour Tuesday morning. Whiteout conditions are likely, as New Yorkers can expect 35 to 50 mph winds Tuesday morning into the afternoon. The New York City Emergency Management office also warned that flooding may occur in the coastline areas of Brooklyn, Staten Island and southern Queens.
If the storm lives up to predictions, meteorologist Eric Holthaus reported in the Daily Beast, it will be the biggest March snowstorm in New York since 1888, and one of the top 10 biggest snowstorms in New York history since the city began keeping records in 1869. Holthaus also noted that climate change may make East Coast snowstorms more likely, as evidenced by the fact that eight of the top 10 New York snowstorms — including Tuesday's — have taken place since 1996. 
Impact and preparation
Travel will be extremely dangerous during Tuesday's blizzard, and New York City Emergency Management Commissioner Joseph Esposito urged New Yorkers to take mass transit instead of driving. In its blizzard warning, the NWS urged all residents who must travel to bring winter survival kits and stay with their vehicles in the event they get stranded.
Alternate side parking is suspended in New York on Tuesday and Wednesday, though the Staten Island Ferry and Citi Bike services are currently slated to remain in service. Neither the MTA nor the Port Authority have announced any service changes or suspensions, although Gothamist reported that both agencies are continuing to monitor and make preparations for the storm.