'Ghost Recon Wildlands' T5Xi Tactical: How to get the best sniper scope in the game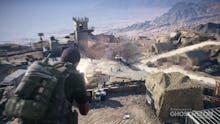 As you explore the gorgeous, massive — and unexpectedly controversial — open world of Ghost Recon Wildlands, you'll assemble a vast arsenal of increasingly powerful weaponry. If you like playing stealthily and picking enemies off from a distance with a sniper rifle, there's one scope in particular you'll want to get your hands on as soon as possible: the T5Xi tactical, which offers six times the magnification of normal weapons, according to Prima Games. 
But, unless you know where to look, you're not likely to ever stumble across it. Here's how to get the T5Xi tactical sniper scope in Ghost Recon Wildlands.
Ghost Recon Wildlands T5Xi location: Where to find it
The T5Xi tactical scope is located in the Koani Province, which is quite a hike up to the north end of the map. You can navigate there relatively easily using a helicopter, but you'll want to check out the following video from Critical Hit, which details the scope's exact location:
Check out the latest from Mic, including our deep dive into how female Overwatch players are dealing with online harassment, a cool Easter egg in the latest Pokémon Go update and everything that comes in the $300 Shadows of War: Mithril Edition.