Chance the Rapper did not write Kanye West's "bleached asshole" line, but he respects it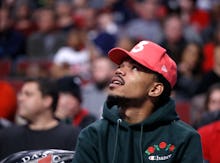 Ever wanted to know what it's like to be in a studio with Kanye West? Well, Chance the Rapper has your inside scoop.  
In a new interview with Complex, Chance revealed he did not come up with the "bleached asshole" line in the song "Father Stretch My Hands Pt. 1." The pair worked together on the song for Kanye's The Life of Pablo record and it was a very memorable experience for Chance.  
"No, I didn't do that line," Chance admitted. While he couldn't take credit for the lyric, he went on to explain just how methodical Kanye is in the studio. Surprisingly, West is funny.
"'Ye is a comedian in a lot of ways," Chance revealed. "He writes stuff that is painfully funny and painfully true. And that's why you respect comedy and that's why you respect his work."  
Chance praised Kanye for using humor, and said the rapper is clever when it comes to how he includes words in his raps and exposing the truth for comedic effect. "Not making light of it, but in a clever way exposing something that's socially wrong, you know?" Chance said of Kanye's skill. 
The two bonded in the studio, too, with their children even having a playdate together. "We've had some very good conversations and some very good hangouts," Chance said. "I went over there a couple months ago — I was staying in Malibu for a little while, working on some new stuff, and he was out there, and we had like, a little playdate with Saint and Kinsley, and it was awesome. We kicked it, and we talked about everything going on in the world." 
We assume Kanye came up with the "bleached asshole" line on his own. Really, we wouldn't have it any other way. 
Mic has ongoing music coverage. Please follow our main music hub here.