LGBT community center in Washington, DC, vandalized, staff member assaulted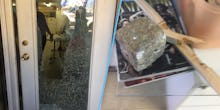 A window was smashed and a staff member was assaulted at Casa Ruby LGBT Community Center in Washington, D.C., on Sunday afternoon, according to posts from the center's Facebook. 
"Our Casa Ruby LGBT Community Center was just vandalized and a staff assaulted by a transgender hater," the post reads. "The violence is real. Seven transgender women murdered, this is how it begins, and we refuse to be the next ones." 
At a news conference on Friday, DC Mayor Muriel Bowser and acting DC police chief Peter Newsham announced that the city had seen a sharp 59% rise in anti-LGBT hate crimes. In 2015, 37 cases of anti-LGBT hate crimes were reported. That number increased to 59 in 2016, according to the Washington Blade. 
Ruby Corado, executive director of Casa Ruby, broadcasted live on Facebook twice from the community center on Sunday after the incident. 
"To all of you watching, this is totally unacceptable," Corado says to the camera, crying. "We should never have to live thinking that someone is going to come into our spaces and just destroy it." 
Corado added, "This person comes here to hurt us, they're sending a message that our lives are not fucking worth it. We need to come together and show the haters, these people, that our lives are more worth it than theirs because they stand for nothing. At least we have the dignity to live in our truth." 
In a follow-up broadcast on Sunday night, Corado called the vandalism "another example of hate" meant to "intimidate the LGBT community." 
Corado told FOX5 that this was the third instance of vandalism on Casa Ruby's property in two weeks. Corado did not immediately return Mic's request for comment. 
Casa Ruby joins several other LGBTQ centers nationwide who have been the subject of anti-LGBTQ vandalism in recent weeks. Last week, security cameras at the Dennis R. Neill Equality Center in Tulsa, Oklahoma, caught 13 shots being fired at the center's front windows and door. Prior to that, the Garden State Equality Center in Asbury Park, New Jersey, and Orlando's Equality Florida office were also subject to vandalism. 
Washington, D.C., was also the home of Deeniquia Dodds, a transgender woman who was shot on July 4, during a robbery and died nine days later. A grand jury recently indicted three men involved in the shooting on hate crime charges.