John Oliver's mock Samsung ad on 'Last Week Tonight' pokes fun at battery problems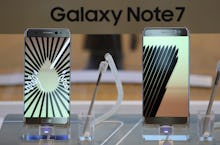 Samsung may have closed the chapter on its now-notorious Galaxy Note 7, but the jokes aren't quite over. In a new segment for Last Week Tonight, late night host John Oliver made fun of the South Korean tech giant in a mock ad.
The clip begins with Oliver sharing clips about Samsung's faulty products from last year — the Note 7 battery debacle and the washing machine mishaps — and transitions into a recommended ad.
"To cover themselves in the future, they should probably just come clean about all their other products flaws," Oliver said.
The mock ad promises "no more surprises" and dives into all the fictional flaws in other Samsung problems, ranging from laptop computers that scream in pain when touched and Smart TVs that believe Bill Cosby is innocent. The ad ends with each device spontaneously catching on fire.
The mock ad dates references incidents from September, when Samsung issued a self-imposed recall of more than 2.5 million Galaxy Note 7s across 10 countries after devices were spontaneously catching on fire. At the time, the company described the problem as a "minor flaw in the battery manufacturing process." The voluntary recall was followed by an air travel ban by the Federal Aviation Administration and an official recall by the United States Consumer Product Safety Commission. The South Korean tech giant ultimately discontinued the device after replacement handsets were also defective. The recall and discontinuation is estimated to have cost the company at least $5.3 billion.
Since then, Samsung has also recalled 2.8 million top-load washing machines citing "excessive vibrations." In February, a Samsung battery factory suffered from a "minor fire" in the northern Chinese city of Tianjin.