New Orleans church window shattered 2 days after it hosted transgender town hall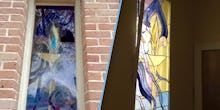 Only two days after hosting a town hall to address violence against transgender people, the First Unitarian Universalist Church of New Orleans was vandalized.
According to a post on the church's Facebook page, someone threw a brick through a stained-glass window during worship service Sunday morning. 
"We think it might be in reaction to the town hall meeting we hosted on Friday afternoon, organized by Transitions Louisiana, on violence against transgender people," the post read. "If so, it does not affect our commitment to stand by our transgender neighbors, and all our neighbors who are marginalized or targeted by systems of oppression." 
The church has several other ties to LGBTQ communities. It is a venue for LOUD: New Orleans Queer Youth Theatre, which posted a message of support to the church on Facebook. 
"At this time, we do not have evidence that would link the simple criminal damage to property incident today with Friday's [town hall]," the New Orleans Police Department said in a statement to the New Orleans Times-Picayune.
Friday's town hall on transgender violence featured leaders of New Orleans' transgender community talking with members of the New Orleans political community to address the violence that transgender people have seen in recent weeks in the city. 
"We are worthy of respect, and we are here to be included in our society, not only on the margins," Jada Mercedes Cardona, executive director of Transitions Louisiana, said at the event.  
In February, two transgender women of color — Chyna Doll Dupree and Ciara McElveen — were killed in New Orleans within 36 hours. On March 8, another transgender woman was shot during a burglary in New Orleans. 
The church is the latest in a string of incidents of vandalism against LGBTQ safe spaces across the nation. On Sunday, a rock was thrown through the front door of the Casa Ruby LGBT Community Center in Washington, D.C., shattering its glass; a staff member was also assaulted. In the past two weeks, LGBTQ centers in Tulsa, Oklahoma; Asbury Park, New Jersey and Orlando, Florida, were vandalized, as well. 
Cardona and First Unitarian Universalist Church did not immediately respond to requests for comment.