National security adviser Mike Flynn's ouster: What's a "registered foreign agent"?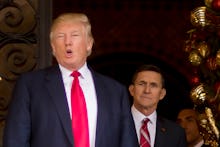 President Donald Trump's first national security adviser, Michael Flynn, was a "registered foreign agent" of the Turkish government during the 2016 presidential campaign up until Nov. 15, 2016, the New York Times reported on March 10. Flynn, the former director of the Defense Intelligence Agency, is not accused of breaking any laws. Flynn's registration raises important questions including: Did Flynn inform the Trump campaign that he was acting as a foreign agent? And would it have cared if he had? 
But for most people, perhaps the biggest question of all is — What does it mean to be a "registered foreign agent"?
Foreign Agents Registration Act
According to the U.S. Department of Justice, the Foreign Agents Registration Act of 1938 was passed "in response to the large number of German propaganda agents in pre-WWII U.S." 
FARA defines an agent as one who acts, "at the order, request, or under the direction or control" of a foreign political entity, or of another foreign agent.  Among other possible activities, foreign agents "engage in political activities ... public relations" or collect and distribute money on behalf of a foreign power. 
Individuals or businesses must register with the Attorney General within ten days of becoming a foreign agent, and must update their registration with supplemental materials every six months. 
Who does not have to register as a foreign agent?
There are many professions whose practitioners do not have to register as a foreign agent. These include: journalists; business people and businesses whose trade may incidentally benefit a foreign power; diplomats and diplomatic and consular staff; individuals soliciting aid and charity for use in another state; or lawyers representing other powers in court. 
Lobbyists for foreign powers do not register under FARA, but must register under the Lobbying Disclosure Act of 1995.
A "foreign agent" is not a spy. By definition, a spy would not be registered with the government.
The Foreign Agent database
The law requires that a public database of foreign agents be maintained and, unless Congress repeals or amends the law, you can search it yourself on the Department of Justice website.
As of March 13, 2017, there have been thousands of registered foreign agents. Many of them are tourism authorities, trade commissions and major public relations and law firms.
But only one of them is a former national security adviser of the United States.