Andy Cohen talks Kellyanne Conway, rebooting 'RHODC,' Logo's 'Fire Island' controversy and more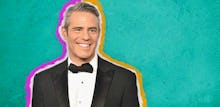 Andy Cohen's nearly done it all — at least the important stuff. 
He's been spanked by Martha Stewart, slapped by Cher, choked by Shannon Doherty, gotten Oprah to say "breasteses," crushed a bottle on Sarah Silverman's crotch and asked Mike Tyson what ear tastes like, just to name a few things this late-night legend has done during his eight-year tenure as host of Bravo's Watch What Happens Live with Andy Cohen.
Mic chatted with the three-time New York Times best-selling author and impresario behind The Real Housewives franchise to get the tea on everything from creating his first ice cream to which Housewives Kellyanne Conway would spar with most.
Mic: You just teamed up with Marie Callender's and 10Below to concoct a limited-edition, pie-infused ice cream creation. How did this collab come about?
Andy Cohen: Well I don't cook, so Marie Callender's is perfect for me because now I have a freezer full of pies that I can just defrost and they're done. They came to me and said we want to pair the new chocolate chip cookie dough pie with things that you eat. So I thought, 'Well, I like dark chocolate; I like English breakfast tea,' and they basically came up with this English breakfast-infused ice cream and it's really fuckin' good. 
On last week's Watch What Happens Live, Samuel L. Jackson and Alison Williams brilliantly reenacted a scene from Girls. What's been your favorite reenactment staged on the show?
I did a Sex and the City reenactment with my parents and Sarah Jessica Parker that was really funny. I did a scene from 9 to 5 with Jane Fonda and Lily Tomlin and I got to play Dolly Parton in the scene where they're smoking pot. Also I did a scene with Chris Noth where I was Carrie and he wound up kind-of fake kissing me at the end. There have been some doozies. 
How do you come up with the questions for Plead the Fifth, one of the show's signature games in which a celebrity is asked three question and may plead the fifth to only one?
It's a real science coming up with those questions because you can't ask a yes or no question; they have to be worded very carefully to force the person to answer and be specific.
Before I taped the show with Shaq where I ask him how big his dick was (because his shoes were a size 28) I was shaking in my boots. Last week I asked Jennifer Lopez a really shady question in an attempt to get her to name one of the five men she's been proposed to and I ended up kinda letting her off the hook. It's got to be within reason.
Which celebrity's answer most surprised you?
There have been so many revelations that it's hard to choose just one. I remember asking Sally Field something about dating Johnny Carson and she said that he was so into her that she lied to him and told him that she went to a mental institution to get out of dating him. Ray Liotta saying that Clint Eastwood is the most overrated actor and that kissing Sigourney Weaver was his worst kiss.
You made headlines for suggesting that Kellyanne Conway reminds of you of a Real Housewife which begs the question: If she were to be cast, which city and who do you think she'd get into her first big blowout with?
I would want to put Kellyanne in New York. I think she'd get along with Ramona and I think she would be at odds with Carole and Bethenny.
If you had to launch a new Housewives tomorrow, which city would you set it in?
D.C. because it's just full of lunatics right now. It would be a reboot with all wives of people that are in government. I would want to go hard.
You took viewers on a wild ride with a Before They Were Housewives one-hour special focusing on Countess Luann de Lesseps. Please say this was not a one-off.
The thing about Luann is that she's lived quite a life. And her life lent itself to that long of an examination. I don't know how many of the Housewives have lived a life that is worthy of that much TV time in terms of twists and turns. But I thought it was a great show and I hope Bravo makes more.
If there was a superlative of "most changed" for any Housewife, who would receive that honor?
I think Ramona has actually changed a lot. She's gotten much easier to deal with and much more grateful for the show now then she was at the beginning. She used to be a bit rough and tumble and now she's mellowed out a lot. 
What has been your experience of LGBTQ media?
I think they've been fine. Any time there's ever been an article about me on any gay sites the comments are always just the meanest you can imagine... but that might be par for the course. I'm proud to be the only openly gay late-night talk show host. 
I'm now going into my eighth year of this so whether gay people like that or they don't like it, I do know that there are young gay men across the country who maybe come to my book signings or have dinner with my mom and say "it's touched me that I've been able to see a gay guy in late night." So ultimately I can't get too invested in what the comments say or what the gay media says because if there can be kids watching and thinking "oh wow, look, that guy is gay and he has this show and everything seems okay with him" then that should be the important thing.
A lot has been discussed and debated around Logo's upcoming series Fire Island, particularly with regards to representation — or the lack thereof. What do you think about all of this?
If it were the only show about gay people on television then maybe that would be a topic of conversation, but we live in 2017, and there are gay people of every shape and size on many different shows. Have you ever been to Fire Island? It's pretty white and chiseled. That's what it largely looks like there. If we went somewhere else, it would probably look different. I think we should be happy with having another representation of ourselves on television. Maybe people should look at the how before they start protesting it,
I love your friendship with Anderson Cooper largely because it helps fill a void in what I perceive to be a lack of substantive gay friendships portrayed in the media. What televisions show or movies do you think do a good job of depicting the special bond that queer friends have?
I think Queer Eye For the Straight Guy did. I think on Bravo you've had a lot of different gay characters who we've seen bonding. I remember Christian Siriano and Chris March on season 4 of Project Runway.
Who's your favorite person to follow on Instagram?
[Without missing a beat] Amy Sedaris.