Winter storm Stella supermarket shopping list: The snowstorm essentials everyone needs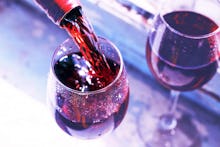 Hear ye, hear ye — a huge snowstorm is about to hit the northeast United States like a ton of bricks. And by that we mean over a foot of snow is predicted to prevent thousands from going to school, schlepping to work and otherwise inconveniencing everyone and their mother.  
Heading to the grocery store tonight? Smart move, but do anticipate a line. You don't want to be caught staring down an empty pantry while snow piles up on your doorstep. Everyone knows that failing to prepare is preparing to fail, and a snow day is no exception.
The best snow days are made better with plentiful snacks and libations. Here's what to buy before you hunker down and watch the snow from your cozy abode. Not unlike this serene cat observing the flakes float from the sky. 
8 foods to buy before a winter storm 
None of these foods are mandatory, but if you want to rock your snow day like a pro, consider them essentials. 
Bottled water
Unpredictable weather could cut off water supplies, the Food and Drug Administration noted. Take the FDA's advice and pick up some bottled water — larger jugs are fine! — because, well, you never know. And hydration is always a good idea. 
Canned soup
Chicken noodle, minestrone, tomato bisque, French onion — pick up a can or two of whatever flavor makes your taste buds sing. A piping hot bowl of soup provides the ultimate comfort when the weather outside is frightful. Pick a brand like Amy's Organic or Healthy Choice if you want a lighter option that can deliver a serving or two of vegetables. 
Baking mix or cookie dough
Do a few flakes of snow make you want to fire up your oven? If you're feeling inspired to fill your home with the tantalizing scent of cookies or brownies but you're lazy, think ahead and buy a baking mix or premade cookie dough. Pro tip: Make sure you look closely at the ingredients list so you don't forget to pick up any necessary eggs or butter. 
Snack foods
You won't be burning a ton of calories by staying home all day — unless you're doing some at home workouts, in which case, bravo — but odds are good you'll want something to munch while you ponder whether you should shovel the driveway or drink heavily. Popcorn is a healthier snack choice because it's a great source of whole grains and can quash your salt cravings, but if you're more of a Hot Cheetos or potato chip person, do you. 
Bread
Oprah likes bread and so should you. Freshly baked carbs are perfect for making French toast, PB&J sammies and grilled cheese (to dip into your tomato soup, of course). Bread serves as an ideal blank canvas make fancy toast masterpieces. The world is your oyster. 
Tea, coffee or hot cocoa
Warm beverages that deliver caffeine or chocolate are ideal for snow days. (Because if you think you're going to trek through snowbanks to a Starbucks or local coffee shop, think again.) Plan ahead and pick up some coffee grinds (make sure to grind whole beans!) or purchase your favorite tea. You'll want the caffeine so you have the energy and stamina to build a snowman... or plow through Netflix.
At least one source of protein
You could graze on snacks all day, but your stomach might start grumbling for something heartier. Grab some eggs (good for omelets and essential for French toast) for a source of healthy fats and protein. Tuna and peanut butter are good sandwich fillers and don't need to be refrigerated. Booyah. 
Alcohol
Whether you want to spike your morning coffee with a bit of Baileys (working from home has its perks, no?) or you intend to unwind with a bottle of Cabernet Sauvignon, alcohol is your snow day BFF. Forgetting to pick up some libations is a cardinal sin of the first degree. May we suggest investing in some whiskey so you can whip up a warming afternoon hot toddy?